Oklahoma Cemeteries Website
Click here to break out of frames
This information is available for free. If you paid money for a
subscription to get to this site, demand a refund.
---
Johnnie Gerald Brown
May 8, 1933 - Feb 11, 2017
Posted by Ann Weber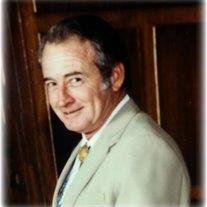 DAVIS FAMILY FUNERAL HOME
DEWEY, WASHINGTON CO, OK
(permission granted)

Johnnie was born the son of L.C. and Dora Mae (Mynear) Brown on May 8, 1933 in Ralston, Ok. He was raised in Ralston and graduated from Ralston High School in 1951. Johnnie joined the U.S. Army and was stationed in Germany during the Korean Conflict 1953-1955. Johnnie was involved with anti-aircraft artillery and received mechanic training during him time in the Army. He joined Phillips Petroleum Co. in Borger before transferring to Bartlesville in 1959. In 1985 he was transferred to Shidler in 1985 as shop foreman until his retirement in 1993. Johnnie was united in marriage with Bess Phelps on October 3, 1986 in Kaw City. They made their home in Ponca City and enjoyed 31 years together.

Johnnie was a carpenter and enjoyed rehabbing old homes for himself and family including his current home. He made furniture and loved collecting old tools and over the years built a very nice collection of hand planes. He was especially close to his son Todd and they enjoyed countless hours of antiqing together. Fishing and camping were favorite pastimes but most of all he loved to argue and Bess was just as capable as him in this skill.

Johnnie is survived by his loving wife Bess of the home, one stepdaughter Sheila Deavers of Ponca City, one sister Janis Wood and David of Ralston, four grandchildren, Darcy Swanson and Brandon, Emily Brown, Tyler Brown and Elizabeth Brown and five great grandchildren. He is preceded in death by his parents, three loving children, Connie Brown, Kim Mitchell and Todd Brown and one brother Dub Brown.

Visitation will be held on Wednesday from 10-8 at the Davis Family Funeral Home.

Funeral services will be held 1 p.m. on Thursday, February 16, 2017, at the Ralston First Baptist Church in Ralston, Ok. Graveside services will be held on Thursday at 4 p.m. in the Dewey Cemetery, Dewey, Ok. Services are under the direction of Carter Davis and the Davis Family Funeral Home. Online condolences and remembrances may be shared with Johnnie's family at www.DavisFamilyFuneralHome.com.

Thank You For Your Service!
|Dewey Cemetery | |Washington County Cemeteries| |Home|

---
This page was updated: Sunday, 19-Mar-2017 13:41:37 CDT
This site may be freely linked, but not duplicated in any way without consent.
All rights reserved! Commercial use of material within this site is prohibited!
© 2000-2018 Oklahoma Cemeteries

The information on this site is provided free for the purpose of researching your genealogy. This material may be freely used by non-commercial entities, for your own research, as long as this message remains on all copied material. The information contained in this site may not be copied to any other site without written "snail-mail" permission. If you wish to have a copy of a donor's material, you must have their permission. All information found on these pages is under copyright of Oklahoma Cemeteries. This is to protect any and all information donated. The original submitter or source of the information will retain their copyright. Unless otherwise stated, any donated material is given to Oklahoma Cemeteries to make it available online. This material will always be available at no cost, it will always remain free to the researcher.