Oklahoma Cemeteries Website
Click here to break out of frames
This information is available for free. If you paid money for a
subscription to get to this site, demand a refund.
---
Michael George Creek, Sr.
Ridgelawn Cemetery
Tombstone Photo
Collinsville, Tulsa County, Oklahoma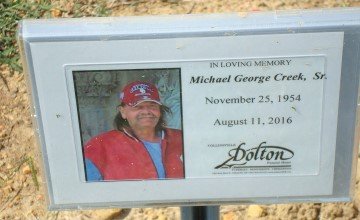 © Dennis Wilson
Obit for Michael posted by Ann Weber


COLLINSVILLE DOLTON FUNERAL HOME
COLLINSVILLE, TULSA CO, OK
(permission granted)
Michael George Creek, Sr., 61, of Collinsville, OK passed away Thursday, August 11, 2016 in Collinsville.
He was born November 25, 1954 in Wichita, KS to Charles Albert Creek and the former Betty Jean Vannmeter. He had lived in Collinsville for the last 25 years. He owned and operated Creeks Fence Company. He coached softball for 4 years and was a member of the Oklahoma Softball Association.

A memorial service will be 10:00 a.m., Friday, August 19, 2016 at the Collinsville Dolton Funeral Home with interment following at Ridgelawn Cemetery.

He is survived by his wife, Pamela Creek of the home. 6 Children: Michael G. Creek and his wife Brittany of Sapulpa, Johnny R. Creek and his wife Darla of Claremore, Lenard R. Creek and his wife Tracy of Dewey, Kimberly P. Creek and Reuben Torres of Skiatook, Heatherlee J. Smith and her husband Joseph of Skiatook and Gwenevere Zanger of Grove. 13 grandchildren and 3 great grandchildren. 1 sister: Carol Ann Fehrenbach and her husband Chris of Owasso and 1 brother: Jerry C. Creek and his wife Sandy of Collinsville.

Preceded in death by his parents, 2 brothers: David R. Creek and Jack D. Creek, 1 sister: Ramona J. Creek

Services are under the direction of Collinsville Dolton Funeral Home.
|Ridgelawn Cemetery | |Tulsa County Cemeteries| |Home|
---
This page was updated: Sunday, 14-Jan-2018 07:36:40 CST
This site may be freely linked, but not duplicated in any way without consent.
All rights reserved! Commercial use of material within this site is prohibited!
© 2000-2020 Oklahoma Cemeteries

The information on this site is provided free for the purpose of researching your genealogy. This material may be freely used by non-commercial entities, for your own research, as long as this message remains on all copied material. The information contained in this site may not be copied to any other site without written "snail-mail" permission. If you wish to have a copy of a donor's material, you must have their permission. All information found on these pages is under copyright of Oklahoma Cemeteries. This is to protect any and all information donated. The original submitter or source of the information will retain their copyright. Unless otherwise stated, any donated material is given to Oklahoma Cemeteries to make it available online. This material will always be available at no cost, it will always remain free to the researcher.