Oklahoma Cemeteries Website
Click here to break out of frames
This information is available for free. If you paid money for a
subscription to get to this site, demand a refund.
---
Cecil Lenora & Virgil Wiley Cheney
Ridgelawn Cemetery
Tombstone Photo
Collinsville, Tulsa County, Oklahoma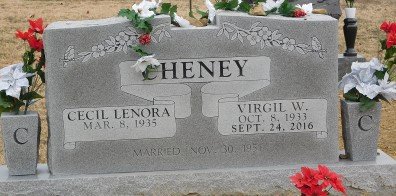 © Dennis Wilson
Obit for Virgil posted by Ann Weber

COLLINSVILLE DOLTON FUNERAL HOME
COLLINSVILLE, TULSA CO, OK
(permission granted)
Virgil Wiley Cheney, 82 of Collinsville, OK, a loving Husband, Father and Grandfather passed away Saturday, September 24, 2016 in Owasso, OK.
He was born in Seneca, MO. His parents were Tom and Betty Grace (Brewer) Cheney. He worked for American Airlines for 29 years. He loved woodworking and carpentry, having built several houses.
Visitation will be 9:00 a.m. to 8:00 p.m. Friday, September 30, 2016 at the Collinsville Dolton Funeral Home.
Funeral services will be 10:00 a.m., Saturday, October 1, 2016 at the Collinsville Dolton Funeral Home Chapel with Rev. Gary Cate officiating. Interment will follow at the Ridgelawn Cemetery in Collinsville.
Mr. Cheney is survived by his wife, Cecil Lenora Cheney of the home. 4 children: Cathleen Mathews and her husband Gerald of Inola, OK, Danny Cheney and his wife Christy of Mannford, OK, Susan Carey of Collinsville and Robert Cheney and his wife Anita of Germany. 15 Grandchildren and numerous great-grandchildren. He is also survived by a cousin: Vertilee Combs of Granbury, TX and several friends and other relatives.
He is preceded in death by his son: Randy Cheney.
Services are under the direction of Collinsville Dolton Funeral Home.

|Ridgelawn Cemetery | |Tulsa County Cemeteries| |Home|
---
This page was updated: Sunday, 14-Jan-2018 07:36:36 CST
This site may be freely linked, but not duplicated in any way without consent.
All rights reserved! Commercial use of material within this site is prohibited!
© 2000-2020 Oklahoma Cemeteries

The information on this site is provided free for the purpose of researching your genealogy. This material may be freely used by non-commercial entities, for your own research, as long as this message remains on all copied material. The information contained in this site may not be copied to any other site without written "snail-mail" permission. If you wish to have a copy of a donor's material, you must have their permission. All information found on these pages is under copyright of Oklahoma Cemeteries. This is to protect any and all information donated. The original submitter or source of the information will retain their copyright. Unless otherwise stated, any donated material is given to Oklahoma Cemeteries to make it available online. This material will always be available at no cost, it will always remain free to the researcher.