Oklahoma Cemeteries Website
Click here to break out of frames
This information is available for free. If you paid money for a
subscription to get to this site, demand a refund.
---
Donald Daniel "Don" Brinkley
Ridgelawn Cemetery
Tombstone Photo
Collinsville, Tulsa County, Oklahoma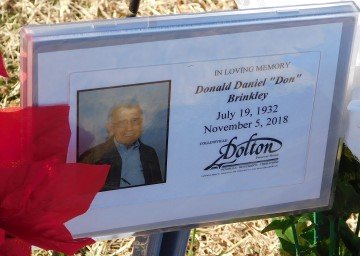 © Dennis Wilson
Obit posted by Ann Weber
COLLINSVILLE DOLTON FUNERAL HOME
COLLINSVILLE, TULSA CO, OK
(permission granted)
Donald Daniel Brinkley entered the world on July 19, 1932 as the son of sharecroppers, Daniel and Jesse Pearl Brinkley, in Monticello, Arkansas. Don's father passed away in a tragic bus accident when Don was 8 years old and he had to quickly grow up. He was the youngest of four children and was preceded in death by his parents and all of his siblings – Bob and twins Horace and Doris; Father and Mother-in-Law Cleo and Elnora Fifer; Son-in-Law Norman Stevens; and nephew Ronnie Fifer. He left this world on November 5, 2018 at the age of 86 years, 3 months, and 18 days.
Being a child of the depression era, Don learned to work early. He started in the fields picking cotton and later entered the military. But, all along the way his love for cars drove his ambitions. He was a racecar driver and their house was filled with racing trophies. Eventually, he moved into the car business and worked himself from being a used car salesman to within in a relatively short period of time to being the General Manager of one of Tulsa's largest car dealerships. He later owned and operated The Tulsa Auto Auction. After what was supposed to be a retirement 24 years ago, he opened his own car lot in Collinsville where he worked 10 hours a day 6 days a week until his health forced him to close the car lot. Don was 84 when he finally quit working. Between picking cotton and the military, Don served his community as a police officer and soon after becoming the Chief of Police in Collinsville; he met and married the love of his life, Carolyn Jane Fifer. They were married for over 58 years at the time of his death.
Their union produced three children, 5 grandchildren, and 2 great grandchildren who were among the greatest of the joys in his life.
Don is survived by his wife, Carolyn, of the home; Son, Rick, of Oklahoma City; Daughters, Rhonda Brinkley Stevens, of Perry, and Rebecca "Rusti" and Husband Chuck Howard of Collinsville; Grandchildren Stacey Steven and fiancé Marshall Frye; Summer Stevens; Brinkley Howard; Tyler Howard and wife, Brittany, of Pryor; John Gaebel and wife, Rachel, of Bixby; and great grandchildren Trueman Howard and Cristian Gaebel; as well as numerous relatives, friends, and total strangers whom he loved and wanted to make sure they were happy.
The family would like to extend their sincere appreciation to those who stood in the gap for Don and his family during their time of need, especially Bob Coppedge and Ed Higgins for continuing to supply his needs for his Root Beer and Coney Island addiction and kept him smiling; the staff of St. John Hospice, especially Nurse Mary Lou, Aides Kristin and Kayla, Chaplain Oywedia, Social Worker Charlene, and the Hospice Medical Staff. As well as Don's church family, friends, and loved ones who made the most difficult time of his life as easy as possible.
In lieu of flowers, contributions may be made to: St. John Foundation, ATTN: Kevin Turner, 4720 S. Harvard, Suite 202, Tulsa, OK 74135 or Ward-Wiseman Animal Haven, PO Box 795, Collinsville, OK 74021. Please make an indication on the contributions designating them as in memory of Don Brinkley.
Visitation will be Wednesday, November 7, 2018, 2:00 p.m. to 8:00 p.m. with the family present, 6:00 p.m. to 8:00 p.m.
Funeral services will be 10:00 a.m., Thursday, November 8, 2018 at the Collinsville Free Will Baptist Church.
Interment will follow at the Ridgelawn Cemetery in Collinsville.
Services are under the direction of Collinsville Dolton Funeral Home.
Thank You For Your Service!
|Ridgelawn Cemetery | |Tulsa County Cemeteries| |Home|
---
This page was updated: Friday, 24-May-2019 09:31:04 CDT
This site may be freely linked, but not duplicated in any way without consent.
All rights reserved! Commercial use of material within this site is prohibited!
© 2000-2020 Oklahoma Cemeteries

The information on this site is provided free for the purpose of researching your genealogy. This material may be freely used by non-commercial entities, for your own research, as long as this message remains on all copied material. The information contained in this site may not be copied to any other site without written "snail-mail" permission. If you wish to have a copy of a donor's material, you must have their permission. All information found on these pages is under copyright of Oklahoma Cemeteries. This is to protect any and all information donated. The original submitter or source of the information will retain their copyright. Unless otherwise stated, any donated material is given to Oklahoma Cemeteries to make it available online. This material will always be available at no cost, it will always remain free to the researcher.