Oklahoma Cemeteries Website
Click here to break out of frames
This information is available for free. If you paid money for a
subscription to get to this site, demand a refund.
---
Norma Lee (Flaugher) & Orval Wayne Blunt,Sr
Ridgelawn Cemetery
Tombstone Photo
Collinsville, Tulsa County, Oklahoma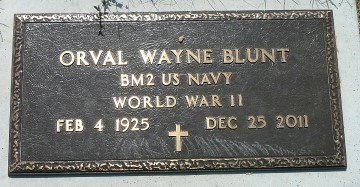 Photos © Dennis Wilson
Thank You For Your Service!
Obit for Norma posted by Ann Weber
Dec 29, 1927 - Sep 2, 2018
COLLINSVILLE DOLTON FUNERAL HOME
COLLINSVILLE, TULSA CO, OK
(permission granted)
Norma Lee Blunt was born on December 29, 1927 to John L. and Ada Mariah (Detwiler) Flaugher of Collinsville.

Married Orval Wayne Blunt, Sr. on April 18, 1947.

Survived by Sons:
Orval Wayne Blunt II and wife Linda of Collinsville,
Thomas Edwin Blunt and wife Vonceil of Tulsa,
John Gregory Blunt and wife Paige of Keller, Texas.
Grandchildren, Great Grandchildren and Great-Great Grandchildren:Justin Blunt of Owasso and his children Heidi, Logan, Allysa and his grandchild.
Orval Wayne (Trey) Blunt III and wife Misty of Ft. Gibson, Oklahoma and their children Jaxon and Macie.
Chris Blunt of Collinsville, and his children Gage, Kael, Noah, Ayden, Liz and his two grandchildren.
Monica Wells and husband Shane of Talala, Oklahoma and son Zack Overholt.
Mariah Blunt of Collinsville.Madison, Mitchell and Marissa Blunt of Keller, Texas.

In lieu of flowers, donations may be made in Norma's name to:
Meadowcreek United Methodist Church
14205 E 146th Street North
Collinsville, OK 74021

Visitation will be held Wednesday, September 5, 2018 from 9:00 a.m. - 8:00 p.m., with family receiving guests at the funeral home from 5:00 p.m. – 7:00 p.m., at Collinsville Dolton Funeral Home.

A Funeral Service will be held 10:00 a.m., Thursday, September 6, 2018 at Meadowcreek United Methodist Church with Rev. Mark Whitley officiating.
Interment will follow at Ridgelawn Cemetery in Collinsville. Services are under the direction of Collinsville Dolton Funeral Home, www.collinsvillefh.com.
|Ridgelawn Cemetery | |Tulsa County Cemeteries| |Home|
---
This page was updated: Friday, 24-May-2019 09:31:03 CDT
This site may be freely linked, but not duplicated in any way without consent.
All rights reserved! Commercial use of material within this site is prohibited!
© 2000-2020 Oklahoma Cemeteries

The information on this site is provided free for the purpose of researching your genealogy. This material may be freely used by non-commercial entities, for your own research, as long as this message remains on all copied material. The information contained in this site may not be copied to any other site without written "snail-mail" permission. If you wish to have a copy of a donor's material, you must have their permission. All information found on these pages is under copyright of Oklahoma Cemeteries. This is to protect any and all information donated. The original submitter or source of the information will retain their copyright. Unless otherwise stated, any donated material is given to Oklahoma Cemeteries to make it available online. This material will always be available at no cost, it will always remain free to the researcher.