Oklahoma Cemeteries Website
Click here to break out of frames
This information is available for free. If you paid money for a
subscription to get to this site, demand a refund.
---
Joy Ann (Chapman) & Tandy Walker "TW" Biggs
Ridgelawn Cemetery
Tombstone Photo
Collinsville, Tulsa County, Oklahoma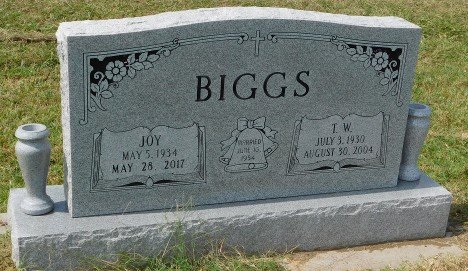 © Dennis Wilson
Obit for Joy posted by Ann Weber
May 5, 1934 - May 28, 2017
COLLINSVILLE DOLTON FUNERAL HOME
COLLINSVILLE, TULSA CO, OK
(permission granted)
Joy Ann Biggs, 83, of Collinsville, OK passed away Sunday, May 28, 2017 in Collinsville.

She was born May 5, 1934 in Stringtown, OK to Ernest Chapman and the former Minnie Chick. She had lived in Collinsville since 1970 having moved from Tulsa, OK. She previously had work for S.C.M. Typewriters in Tulsa. She was known for being a seamstress and designer having created many pageant dresses, including beautiful gowns for several Miss Oklahoma contestants, countless wedding dresses and amazing uniforms for the Collinsville Cardinal cheerleaders for a number of years.
Visitation will be 9:00 a.m. to 8:00 p.m., Thursday, June 1, 2017 at the Collinsville Dolton Funeral Home.
Funeral services will be 10:00 a.m., Friday, June 2, 2017 at the Collinsville Dolton Funeral Home Chapel with Rev. Kelvin Limbocker officiating. Interment will follow at the Ridgelawn Cemetery.
She is survived by 3 children: Edward Biggs of Collinsville, Tina Matheson of Sapulpa, OK and Gina Kathleen Judy of Tucson, AZ. 1 sister: Bobbie Duke of Edmond, OK. She is also survived by 8 grandchildren and 6 great-grandchildren.
She is preceded in death by her husband, T.W. Biggs and a daughter, Nina Christine Walker.
Services are under the direction of Collinsville Dolton Funeral Home.

|Ridgelawn Cemetery | |Tulsa County Cemeteries| |Home|
---
This page was updated: Saturday, 30-Sep-2017 07:39:44 CDT
This site may be freely linked, but not duplicated in any way without consent.
All rights reserved! Commercial use of material within this site is prohibited!
© 2000-2020 Oklahoma Cemeteries

The information on this site is provided free for the purpose of researching your genealogy. This material may be freely used by non-commercial entities, for your own research, as long as this message remains on all copied material. The information contained in this site may not be copied to any other site without written "snail-mail" permission. If you wish to have a copy of a donor's material, you must have their permission. All information found on these pages is under copyright of Oklahoma Cemeteries. This is to protect any and all information donated. The original submitter or source of the information will retain their copyright. Unless otherwise stated, any donated material is given to Oklahoma Cemeteries to make it available online. This material will always be available at no cost, it will always remain free to the researcher.