Oklahoma Cemeteries Website
Click here to break out of frames
This information is available for free. If you paid money for a
subscription to get to this site, demand a refund.
---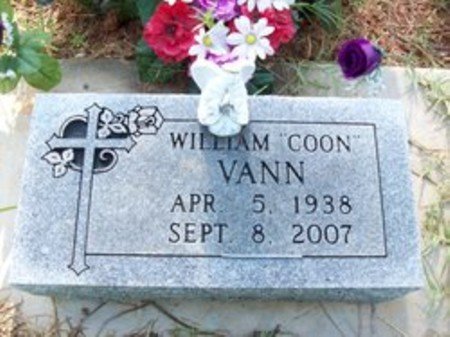 © by: Ron Burnett
William "Coon" Vann
© Southwest Times Record
Sept 2007

Submitted by: Martha Real


MULDROW — William "Coon" Vann, 69, of Muldrow died Saturday, Sept. 8, 2007, in Fort Smith. He was born April 5, 1938, in Tahlequah, Okla. He was a driver and mechanic and a Baptist.
Funeral will be 2 p.m. Monday at Belfonte Baptist Church north of Muldrow with burial at Belfonte Cemetery in the Belfonte community, Okla., under the direction of Agent Funeral Home of Sallisaw.
He is survived by his wife, Anna; a daughter, Linda La'Rogue of Stilwell OK; two sons, Billy Gonzales of Stilwell and Christopher Vann of the Belfonte community; a stepson, Charles Sevenstar of Roland; three sisters, Martha Killer, Polly Vann and Lizzie Bird, all of Stilwell; a brother, Solider Vann of Stilwell; eight grandchildren, an adopted grandchild and eight great-grandchildren.
The body may be viewed from 2-9pm today at the home of William Vann.
Times Record
|Belfonte Cemetery Page| |Home|
---
This page was updated: Thursday, 15-Mar-2018 15:17:29 CDT
This site may be freely linked, but not duplicated in any way without consent.
All rights reserved! Commercial use of material within this site is prohibited!
© 2000-2020 Oklahoma Cemeteries

The information on this site is provided free for the purpose of researching your genealogy. This material may be freely used by non-commercial entities, for your own research, as long as this message remains on all copied material. The information contained in this site may not be copied to any other site without written "snail-mail" permission. If you wish to have a copy of a donor's material, you must have their permission. All information found on these pages is under copyright of Oklahoma Cemeteries. This is to protect any and all information donated. The original submitter or source of the information will retain their copyright. Unless otherwise stated, any donated material is given to Oklahoma Cemeteries to make it available online. This material will always be available at no cost, it will always remain free to the researcher.