Oklahoma Cemeteries Website
Click here to break out of frames
This information is available for free. If you paid money for a
subscription to get to this site, demand a refund.
---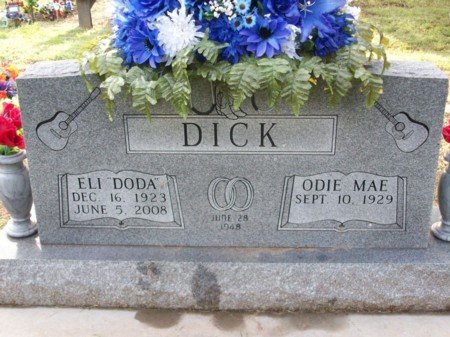 © by: Ron Burnett
Eli "Do-Da" Dick
December 16, 1923-June 5, 2008
Eli "Do-Da" Dick of Nicut, Oklahoma was born December 16, 1923 in Cookson, Oklahoma and passed away June 5, 2008 in fort Smith, Arkansas at the age of 84.
He is survived by his wife, Odie Dick, 3 daughters; Shirley Reed and Tommy of Nicut, Oklahoma, Julie Moss and Pat of Tahlequah, Oklahoma, Susan Dolan and Roy of Roland, Oklahoma, 3 sons; William (Bill) Dick and Dixie of Muldrow, Oklahoma, Johnny Dale Dick and Loretta of Sallisaw, Oklahoma, Michael Dick of Nicut, Oklahoma, 10 grandchildren; Tammy Reed, Richard Reed, B.J. Dick, Dr. Brad Dick, Jonathan Dick, Shannon Dick, Michelle Deason, Nakwsi Moss, Brooke Bruton and Chelsea Dolan. 14 great grandchildren and 1 great-great grandchild.
Funeral services will be 10:00 am Monday, June 9, 2008 at Fellowship Baptist Church with Rev. Edward Baker, Rev. Steve Morgan andd Rev. Harold Gateley officiating.
Burial will follow in Bellefonte Cemetery under the direction of the Mallory-Martin Funeral Home of Sallisaw, Oklahoma.
Pallbearers will be his grandsons; Richard Reed, B.J. Dick, Dr. Brad Dick, Jonathan Dick, Nakwsi Moss, Tommy Edwards and Sonny Small.
Honory pallbearers will be the men of Fellowship Baptist Church.
He was preceded in death by his parents; William and Sally Dick, and an infant son.
He was a loving husband of 60 years, father, grandfather, great-grandfather and great-great-grandfather who loved to spend time with his family.
He was a World War II Army Veteran, and was awarded a Bronze Star for sharp shooting, a Good Conduct Metal and a honorable discharge.
He was a Charter Member and an Elder Deacon of the Fellowship Baptist Church in Nicut where he loved his church family and loved to sing and play the guitar.
He was also a member of the United Keetoowah Band of the Cherokee Nation. In his younger years he loved to hunt and fish.
|Belfonte Cemetery Page| |Home|
---
This page was updated: Wednesday, 03-Oct-2018 12:21:33 CDT
This site may be freely linked, but not duplicated in any way without consent.
All rights reserved! Commercial use of material within this site is prohibited!
© 2000-2020 Oklahoma Cemeteries

The information on this site is provided free for the purpose of researching your genealogy. This material may be freely used by non-commercial entities, for your own research, as long as this message remains on all copied material. The information contained in this site may not be copied to any other site without written "snail-mail" permission. If you wish to have a copy of a donor's material, you must have their permission. All information found on these pages is under copyright of Oklahoma Cemeteries. This is to protect any and all information donated. The original submitter or source of the information will retain their copyright. Unless otherwise stated, any donated material is given to Oklahoma Cemeteries to make it available online. This material will always be available at no cost, it will always remain free to the researcher.