Oklahoma Cemeteries Website
Click here to break out of frames
This information is available for free. If you paid money for a
subscription to get to this site, demand a refund.
---
Nettie Mae (Howard) Lovett
Apr 19, 1916 - Jun 14, 2017
Posted by Martha Reddout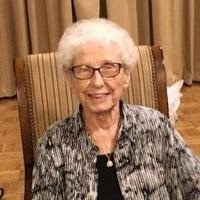 Nettie Lovett was born April 19, 1916 near Grand, Ellis County, Oklahoma as the youngest child of Frank and Orpha (Bauer) Howard. Nettie started her trip to Heaven on June 14, 2017 after having celebrated her 101st birthday with family and friends in April.

She attended Pinkston Grade School and Arnett High School. On January 21, 1936, Nettie and Jess Lovett were married in Woodward, Oklahoma. To this union, 3 sons were born, Frank, Tom and Terry. She was a devoted wife of 66 years until Jess passed away in 2002. Nettie and Jess both grew up on farms and ranches and began their own careers of farming and ranching in 1937. They worked side by side on their farm northeast of Roll, Oklahoma, farming and taking care of their home and family. In 1968 they moved to Cheyenne, Oklahoma to make their home. She remained there until 2012 when she moved to Oklahoma City. She and Jess grew large vegetable gardens nearly every year. They enjoyed traveling on long automobile trips and playing games like bridge, pitch and dominoes with their friends. She was an avid game player whether it was Pitch, Bridge, 42 or dominoes. She was very competitive and did not like to lose. Nettie had a variety of other interests including baking, canning, dancing, cultivating roses and other beautiful plants in their yard and entertaining family and friends. One of her most enjoyable "loves", especially to her family and friends, was the culinary arts. Her talent in the kitchen left a legacy of memories for her family as well as an enormous collection of recipes and cookbooks. Another cherished legacy are the beautiful quilts she handmade for each of her sons and grandchildren. Over the years, Nettie attended several rural churches and, in Cheyenne, she attended the United Methodist Church and the Church of Christ. Wherever she went, she was known for her feisty, yet good sense of humor. She will be remembered by all who knew her and will be truly missed. She made such an impact on the lives of her grandchildren and great grandchildren.

In addition to her husband, she was preceded in death by her parents and 14 brothers and sisters.

Nettie is survived by her sons and their wives, Frank and Janet (Calvert) Lovett of Alvord, Texas, Tom and Kay (Burns) Lovett of Warr Acres, Oklahoma, Terry and Susan (Hinkle) Lovett, of Houston, Texas; 5 grandchildren, Steve and Ann Lovett of College Station, Texas, Cindy and Steve Coffman of Prosper, Texas, Lisa and Glenn Coffee of Bethany, Oklahoma, Bryan Lovett of Houston, Texas and Donald Lovett of Houston, Texas; 10 great grandchildren, Katlyn Martin and husband, Adam, Scott Lovett and wife, Anne, Kyle Lovett, Cassidy Lovett, Mark Coffman, Jessica Coffman, Collin Coffee and wife, Aubrey, Blaine Coffee, Anna Coffee and Kate Coffee, 2 great great grandchildren, Trent and Truett Martin and a host of other relatives and friends.
Visitation
Sunday, June 18, 2017
1:00 PM - 8:00 PM
Whinery-Savage Funeral Service
403 W. Country Club
Elk City, Oklahoma 73644
Funeral Service
Monday, June 19, 2017
2:00 PM
Whinery-Savage Chapel
403 West Country Club
Elk City, Oklahoma 73644
Burial will follow at Silent Home Cemetery.
Silent Home Cemetery| |Roger Mills County Cemeteries| |Home|
---
This page was updated: Monday, 17-Sep-2018 14:25:57 CDT
This site may be freely linked, but not duplicated in any way without consent.
All rights reserved! Commercial use of material within this site is prohibited!
© 2000-2019 Oklahoma Cemeteries

The information on this site is provided free for the purpose of researching your genealogy. This material may be freely used by non-commercial entities, for your own research, as long as this message remains on all copied material. The information contained in this site may not be copied to any other site without written "snail-mail" permission. If you wish to have a copy of a donor's material, you must have their permission. All information found on these pages is under copyright of Oklahoma Cemeteries. This is to protect any and all information donated. The original submitter or source of the information will retain their copyright. Unless otherwise stated, any donated material is given to Oklahoma Cemeteries to make it available online. This material will always be available at no cost, it will always remain free to the researcher.