Oklahoma Cemeteries Website
Click here to break out of frames
This information is available for free. If you paid money for a
subscription to get to this site, demand a refund.
---
Pottawatomie County Obituary
Mars Hill Cemetery
MARIA DEL ROSARIO AMADOR
18 Sep 1942 - 22 Sep 2012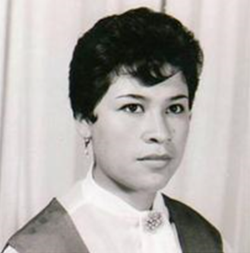 Amador-Salmeron, Maria Del Rosario, 69 passed away Saturday, September 22, 2012 in Oklahoma City, Oklahoma. She was born September 18, 1942 in Juchitlan, Jalisco, Mexico to Eustacio Salmeron Gomez and Celsa Rodriguez Lepe. She was united in marriage on November 22, 1986 in Vancouver, Washington to Filemon Amador.
Maria had the most wonderful green thumb. She loved all types of bright flowers but, her favorite was the rose. Maria had a passion for music and she loved singing and dancing to Mariachi music. Maria enjoyed a good soap just like the next girl. She enjoyed all types of animals especially her Chihuahua's; Spiky, Peggy and Chiquita. Maria liked to hear the rooster crow in the morning and the birds singing in the afternoon. Most of all, Maria loved her family and will be greatly missed by everyone that knew her.
Maria is survived by her husband, Filemon Amador; her children; sons, Alberto Moreno and wife April Moreno of Tulsa, Eduardo Moreno of Oregan; daughters, Maria Moreno and husband Ricardo Perez of Texas, Adriana Reyes and husband Miguel of Norman; brothers, Roman Salmeron and wife Blanca of Tijuana, Mexico, Manuel Salmeron of Macomb, Franciso Salmeron and wife Annabelle of Guadalajara, Mexico; sisters, Angela Salmeron and Maria Salmeron and husband Juan both of Guadalajara, Mexico; grandchildren, Brandon, Cody, Keanan, Elenit, Nikko, Monica, Esmeralda, Elijah, Jaden, Justin, Jared, Jodie, Brianna, Alberto, Samuel, Alicia, Brittany, Jaycob; great grandchild, Janell. She is preceded in death by her parents; daughter, Alicia Moreno; brothers, Jesus, Juan, Julian, Jose, Cesareo, Blas and Jose.
Visitation will be held 2:00 p.m. - 8:00 p.m., Friday, September 28, 2012 at Havenbrook Funeral Home, 3401 Havenbrook St., Norman.
Services will be held 10:00 a.m., Saturday, September 29, 2012 in the Chapel of the Havenbrook Funeral Home with interment following in Mars Hill Cemetery, Macomb. Arrangements for Maria and her family have been placed in the care of the Vice Family at the Havenbrook Funeral Home of Norman. Online condolences may be shared at www.havenbrookfuneralhome.com.
|Mars Hill Cemetery| |Pottawatomie County Cemeteries| |Home|
---
This page was updated: Sunday, 28-Jan-2018 20:06:15 CST
This site may be freely linked, but not duplicated in any way without consent.
All rights reserved! Commercial use of material within this site is prohibited!
© 2000-2018 Oklahoma Cemeteries

The information on this site is provided free for the purpose of researching your genealogy. This material may be freely used by non-commercial entities, for your own research, as long as this message remains on all copied material. The information contained in this site may not be copied to any other site without written "snail-mail" permission. If you wish to have a copy of a donor's material, you must have their permission. All information found on these pages is under copyright of Oklahoma Cemeteries. This is to protect any and all information donated. The original submitter or source of the information will retain their copyright. Unless otherwise stated, any donated material is given to Oklahoma Cemeteries to make it available online. This material will always be available at no cost, it will always remain free to the researcher.