Oklahoma Cemeteries Website
Click here to break out of frames
This information is available for free. If you paid money for a
subscription to get to this site, demand a refund.
---
William "Bill" Prevo English Obit
Submitted by: Tom Johnson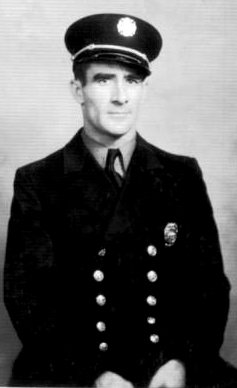 William "Bill" Prevo English
b: May 16, 1902; d: July 22, 1951
Husband of Madge Alma 'Parker' English
Sec. 52, Lot 21, Space 1, Memorial Park Cemetery, Oklahoma City, OK


Obituary for William P. "Bill" English
Reprinted from the "Daily Oklahoman", Oklahoma City, Oklahoma, July 23, 1951, Page: 7

CITY FIREMAN DIES AT HOME

Lieut. William English, 49, of 1418 NW 46, an Oklahoma City fireman more than 13 years, died Sunday in his home following a heart attack.
Services are pending and will be announced by Perrine funeral home.

A native of Ohio, English moved to Oklahoma City with his parents as an infant. He started first with the city fire department at No. 11 station, but for the past 13 years had been stationed at No. 2 station.

He was a member of 10th & Francis Church of Christ. He is survived by his wife, Madge, and son William Scott English, both of the home, and two sisters, Mrs. Ann Jones, and Mrs. Dorothy Schmitt, both of 1310 Jet Drive, Midwest City.


|Memorial Park Cemetery Page| |Oklahoma County Cemetery Page| |Home|
---
This page was updated: Wednesday, 29-May-2013 22:04:11 CDT
This site may be freely linked, but not duplicated in any way without consent.
All rights reserved! Commercial use of material within this site is prohibited!
© 2000-2018 Oklahoma Cemeteries

The information on this site is provided free for the purpose of researching your genealogy. This material may be freely used by non-commercial entities, for your own research, as long as this message remains on all copied material. The information contained in this site may not be copied to any other site without written "snail-mail" permission. If you wish to have a copy of a donor's material, you must have their permission. All information found on these pages is under copyright of Oklahoma Cemeteries. This is to protect any and all information donated. The original submitter or source of the information will retain their copyright. Unless otherwise stated, any donated material is given to Oklahoma Cemeteries to make it available online. This material will always be available at no cost, it will always remain free to the researcher.