Oklahoma Cemeteries Website
Click here to break out of frames
This information is available for free. If you paid money for a
subscription to get to this site, demand a refund.
---
Cemetery Photo
Mayes County, Oklahoma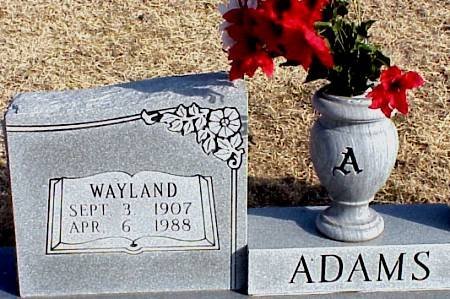 © John Lehr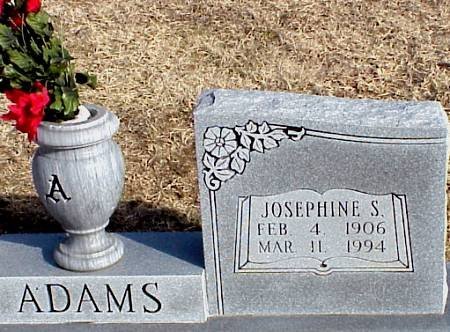 © John Lehr
Wayland & Josephine S. Adams
Fairview Cemetery
---
Mr. Adams
Submitted by: Wanda Purcell
Mr. Adams was born Sept. 3, 1907, in Bruno, Ark. He died April 6, 1988.
He moved to Boatman when he was four years old. He attended school in Boatman and graduated from Pryor High School. He married Josephine Bogle in Sept. 29, 1928 in Tulsa.
He taught in rural schools in Delaware, Mayes and Tulsa communities before receiving a bachelors degree in education from Northeastern Teachers College in Tahlequah.
He taught school in South Dakota through the Dept. of Indian Affiars before earning a master's degree at Oklahoma State A & M College in Stillwater.
He served as education director at the Granite Reformatory for four years. He was superintendent of schools at Cheyenne, Roger Mills County, OK, for 13 years, at Wagoner for five years, at Chandler for four years, and White Oak for seven years.
After retiring in 1973, he moved back to Pryor where he enjoyed hunting and fishing.
He was a member of the First Baptist Church of Pryor, the Masonic Lodge in Cheyenne and the Retired Teachers Association.
Survivors include his wife, Josephine; one daughter, Shirley Cross and her husband, Lester, of Pryor; two grandsons, Dean Bogle Cross of Norman and Doug Adams Cross of Pryor; one brother, James Russell Adams of Little Rock, Ark; one sister, Audra Stamps of Borger, TX and four great-grandchildren.
He was preceded in death by one brother and three sisters.
Funeral services were held at 2:30 p.m., Fri., April 8, 1988 in the First Baptist Church at Pryor.
Rev. Forrest Jackson officiated.
Interment followed in the Fairview Cemetery at Pryor under the direction of the Key Funeral Home of Pryor.
|Fairview Cemetery Page| |Mayes County Cemetery Page| |Home|
---
This page was updated: Monday, 20-May-2013 21:28:49 CDT
This site may be freely linked, but not duplicated in any way without consent.
All rights reserved! Commercial use of material within this site is prohibited!
© 2000-2020 Oklahoma Cemeteries

The information on this site is provided free for the purpose of researching your genealogy. This material may be freely used by non-commercial entities, for your own research, as long as this message remains on all copied material. The information contained in this site may not be copied to any other site without written "snail-mail" permission. If you wish to have a copy of a donor's material, you must have their permission. All information found on these pages is under copyright of Oklahoma Cemeteries. This is to protect any and all information donated. The original submitter or source of the information will retain their copyright. Unless otherwise stated, any donated material is given to Oklahoma Cemeteries to make it available online. This material will always be available at no cost, it will always remain free to the researcher.