Oklahoma Cemeteries Website
Click here to break out of frames
This information is available for free. If you paid money for a
subscription to get to this site, demand a refund.
---
Cemetery Headstone Photo
Mayes County, Oklahoma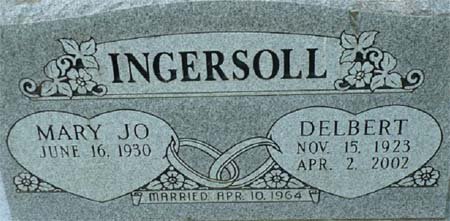 © AndrewChaney
Delbert & Mary Jo Ingersoll
Ross-Mayes Cemetery
---
Delbert Ingersoll
© Amarillo Globe-News
April 5, 2002
Used With Permission
SALINA, Okla. - Delbert Ingersoll, 78, died Tuesday, April 2, 2002.
Services will be at 10 a.m. Saturday in United Pentecostal Church in Pryor with the Rev. Rick Nance officiating. Burial will be in Ross-Mayes Cemetery in Salina by Key Funeral Home of Pryor.
Mr. Ingersoll married Mary Jo Blackstock on April 10, 1964, in Lamesa, Texas. He retired from Blue Marrow Meat Co. in Amarillo, Texas, in 1990.
Survivors include his wife; three sons, Rodney Ingersoll and Jimmy Ingersoll, both of Amarillo, and Joe Del Ingersoll of Inola; a daughter, Kathleen Wara of New Braunfels, Texas; a foster daughter, Barbara Gastineau of Omaha, Neb.; three brothers, Bob Ingersoll of Pryor, Herbert Ingersoll of Denver and Gerald Ingersoll of Salina; four sisters, Genevieve Rush of Joplin, Mo., Agnes Holt of Charleston, Ark., and Rita Fischgrabe and Marcella Jones, both of Muskogee; 10 grandchildren; and 10 great-grandchildren.
|Ross-Mayes Cemetery I Page| |Ross-Mayes Cemetery Page| |Mayes County Cemetery Page| |Home|
---
This page was updated: Saturday, 18-Jan-2020 22:07:30 CST
This site may be freely linked, but not duplicated in any way without consent.
All rights reserved! Commercial use of material within this site is prohibited!
© 2000-2020 Oklahoma Cemeteries

The information on this site is provided free for the purpose of researching your genealogy. This material may be freely used by non-commercial entities, for your own research, as long as this message remains on all copied material. The information contained in this site may not be copied to any other site without written "snail-mail" permission. If you wish to have a copy of a donor's material, you must have their permission. All information found on these pages is under copyright of Oklahoma Cemeteries. This is to protect any and all information donated. The original submitter or source of the information will retain their copyright. Unless otherwise stated, any donated material is given to Oklahoma Cemeteries to make it available online. This material will always be available at no cost, it will always remain free to the researcher.