Oklahoma Cemeteries Website
Click here to break out of frames
This information is available for free. If you paid money for a
subscription to get to this site, demand a refund.
---
Major County, Oklahoma
Phillip Blaine Condreay
© Shaw-Redinger Funeral Home
04--2015
Submitted by : Ann Weber
© Shaw-Redinger Funeral Home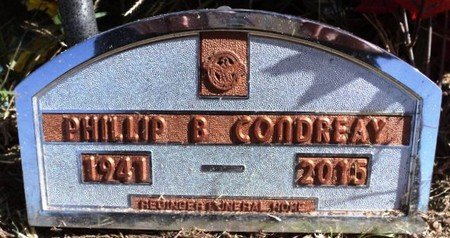 © Glenn
Phillip B. CONDREAY
Chester Cemetery
Phillip Blaine Condreay was born March 15, 1941. He attended Seiling High School where he was Drum Major, played trumpet in the band and participated in 4H Club. He was also active in the Boy Scouts of America reaching Order of the Arrow. He attended Oklahoma State University graduating with a degree in Engineering. He was also a member of the United States Army Reserve 95th Infantry Division where he achieved the rank of Chief Warrant Officer retiring after 20 years of service. He married Gertrude Mae Thomason in 1966, and fathered three sons of whom he was very proud. He worked as an Instructor at Foster Estes Technical School, and started a new department at Oklahoma State University, Oklahoma City Campus, where he was a department head over the Division. Phillip travelled extensively for his work in the HVAC field, and was known as one of the most knowledgeable in that field. He was President of the Refrigeration Engineers Service Society (RSES) board member of ASHRAE, and traveled extensively teaching and speaking. He retired in 1995, having imparted his wisdom and knowledge to many students and several organizations who have all excelled in the HVAC field. Subsequently he joined the Seiling American Legion, Major County Historical Society, Chester historical society, and became instrumental to the community activities for many years until his passing.

Phillip Blaine Condreay went to our lord on April 19, 2015 at 9:11 p.m. He is survived by his wife Trudy Condreay, his sons and their wives and children. His children: Phillip Andrew and Norma Condreay of Oklahoma City, OK, Blaine Thomason and Helene Hackett Condreay of Mustang, OK, and Conrad Anthony and Christine Condreay of Oklahoma City, OK, and by his grandchildren Phillip Harrison, of the Marine Corps, Aaron Condreay, student at the University of Oklahoma, Joshua Condreay, student at Christian Heritage Academey, Colten Delk, a senior at Mustang High School, Inara of three years, and Isaac nine months. He is also survived by many nieces, nephews, and cousins. He was preceded in death by his parents Cecil D. and Ollie May Condreay, his granddaughter Maegan Lynn Delk, and many aunts, uncles and cousins.

Phillip was a wonderful husband, father, and grandfather who was always ready with advice and wisdom He loved his family and his community. His laughter, smile and wisdom will be missed by the family who love him so very much.

Funeral services will be held on Friday, April 24, 2015 at the First United Methodist Church of Seiling with Pastor Norman Wasson and Rev. Orville White presiding. Burial will follow at the Chester Cemetery where he was the caretaker for many years. The family of Phillip Condreay has entrusted his care, services, and burial to Luke Faires and the caring staff of Redinger Funeral Home.

Memorial contributions may be made in Phillip's name to the American Legion for Boy's State, the Chester Cemetery Fund, or the Chester Historical Society.



| Chester Cemetery | Major County Cemetery Page | |Home |

---




This page was updated: Monday, 01-May-2017 13:25:20 CDT
This site may be freely linked, but not duplicated in any way without consent.
All rights reserved! Commercial use of material within this site is prohibited!
© 2000-2018 Oklahoma Cemeteries

The information on this site is provided free for the purpose of researching your genealogy. This material may be freely used by non-commercial entities, for your own research, as long as this message remains on all copied material. The information contained in this site may not be copied to any other site without written "snail-mail" permission. If you wish to have a copy of a donor's material, you must have their permission. All information found on these pages is under copyright of Oklahoma Cemeteries. This is to protect any and all information donated. The original submitter or source of the information will retain their copyright. Unless otherwise stated, any donated material is given to Oklahoma Cemeteries to make it available online. This material will always be available at no cost, it will always remain free to the researcher.