Oklahoma Cemeteries Website
Click here to break out of frames
This information is available for free. If you paid money for a
subscription to get to this site, demand a refund.
---
Pollick Cemetery
aka Dewey Cemetery
Lincoln County, Oklahoma
Submitted & &copy by: Mahlon Erickson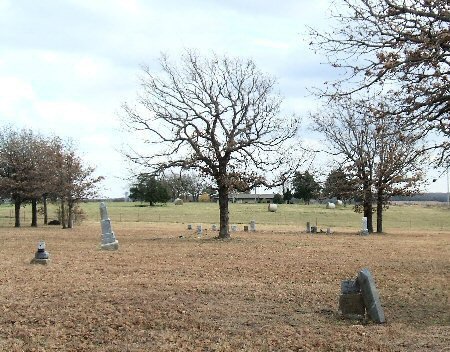 Submitted & &copy by: Sherry Springer
Pollick Cemetery is located near Tryon OK Lincoln County.
Mr. Erickson surveyed this cemetery in 1991.

Pollick Cemetery is located approximately 0.5 miles east of intersection US 177 and Highway 105
near Tryon OK. The cemetery is located on the north side of the road.
If you have family buried in this cemetery and would like to add their information,
an obit, tombstone photo, funeral home record or memorial card to this website,
please email area coordinator.
LAST NAME

FIRST MI

BORN

DIED

COMMENTS

BLAYLOCK
Irma B.
Nov 4 1886
Nov 15 1894
Daughter of L. B. and R. Photo
DEWEY
Homer H.
Oct 9 1847
Dec 31 1909
Father of Linnet
62 yrs 1 mo 26 days Photo
DIXON
George Elmer
Jul 25 1880 ILL
Apr 3 1909 OK
Info provided by Wayne Pounds Obit
DIXON
Lillian B.
Jul 28 1886
Mar 8 1907
Sister of Mrs. Dumas Photo
DORLAND
Lester
Jul 8 1900
Apr 26 1901
Photo
DWYER
Norman E.
Jul 31 1883
May 9 1899
Photo
GREEN
Dennis F.
Apr 10 1910
Aug 3 1912
Son of Alpha and Dollie Photo
GREEN
Dollie M.
Dec 23 1880
Dec 18 1907
Wife of Alpha Photo
GREEN
Gladys
Dec 8 1907
Dec 8 1907
Daughter of Alpha and Dollie Photo
GREEN
Joseph M.
Jul 13 1871
Jul 27 1894
Son of William and Lucinda Photo
GREEN
Lucinda
Mar 3 1848
Mar 29 1896
Wife of William L. Photo
GREEN
William L.
1839
Jan 20 1904
Company G 5th Tennessee Infantry Photo
HAYS
Leonard E.
Aug 18 1886
May 23 1904
Son of A. and M. Photo
HAYS
William H.
March 1853
1910
Unmarked grave
HENDERSON
Sallie L.
Sep 22 1862
Jun 22 1899
Wife of G. W. Photo
HOCKETT
Bethie
Jul 26 1889
Apr 14 1899
Daughter of Al and S. D. Photo
KINDER
David
Dec 5 1841
Aug 5 1901
Photo
KINDER
Rebeca Inskeep
Jan 10 1842
Apr 23 1923
Wife of David Photo
KNIGHT
W. S.
1841
1896
Photo
MAUS
Mary
Dec 3 1895
Feb 30 1959?
Wife of J. H.
McINTYRE
Eugene
Jul 4 1837
Feb 12 1897
Photo
MORROW
Edna
Apr 12 1893
May 1 1905
Daughter of J. H. and Effie Photo
NEAVES
Clara Allen
Aug 21 1887
Oct 30 1905
Daughter of Nancy E. Blankenship and John Allen Photo
OVER
N. C.
May 22 1892
Jun 4 1904
Daughter of J. H. and S. C. Photo
PEEBLER
Sarah
Oct 21 1812
Nov 23 1895
Wife of A. W. Photo
POUNDS
Celia Olson
Apr 1872 Sweden
Mar 23 1906
Wife of George Benjamin Pounds Obit
POUNDS
Infant
Mar 20 1906
Infant daughter of Celia Olson Pounds
PRESLER
Jacob
Feb 5 1821
Mar 11 1907
Photo
PRESLER
Nancy Metcalf
Sep 12 1817
Jan 28 1896
Wife of Jacob Photo
RODGERS
George
May 13 1824
Nov 10 1906
Photo
RODGERS
Maria
Feb 3 1844
Oct 19 1907
Wife of George Photo
SWIFT
Sarah A. Francis Gott
Apr 28 1840
Sep 20 1901
Wife of William A. Photo
SWIFT
William A.
Jul 6 1837
Dec 14 1912
WATKINS
Clara B.
Jun 2 1891
Jan 23 1894
Daughter of W. A. and A. M. Photo
|Lincoln County Cemeteries| |Home|
---
This page was updated: Monday, 03-Sep-2018 10:09:15 CDT
This site may be freely linked, but not duplicated in any way without consent.
All rights reserved! Commercial use of material within this site is prohibited!
© 2000-2019 Oklahoma Cemeteries

The information on this site is provided free for the purpose of researching your genealogy. This material may be freely used by non-commercial entities, for your own research, as long as this message remains on all copied material. The information contained in this site may not be copied to any other site without written "snail-mail" permission. If you wish to have a copy of a donor's material, you must have their permission. All information found on these pages is under copyright of Oklahoma Cemeteries. This is to protect any and all information donated. The original submitter or source of the information will retain their copyright. Unless otherwise stated, any donated material is given to Oklahoma Cemeteries to make it available online. This material will always be available at no cost, it will always remain free to the researcher.