Oklahoma Cemeteries Website
Click here to break out of frames
This information is available for free. If you paid money for a
subscription to get to this site, demand a refund.
---
Skylar Fay Duncan
Dec 30, 2014
Submitted by: Ann Weber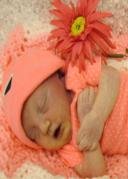 Palmer-Marler Funeral Home
Perry, Noble Co. OK
(permission granted)
Skylar Fay Duncan, infant daughter of Shelbi Carpenter and Blaine Duncan, was born on December 30, 2014 and experienced a brief but amazing, life packed full of remarkable memories, before leaving this earth for her home in Heaven later that same day. Services have been entrusted to the care of Palmer Marler Funeral Home and a graveside service celebrating her life will be held at 2:00pm on Tuesday, January 6, 2015 at the Tonkawa I.O.O.F. Cemetery in Tonkawa, OK.
Skylar was deeply loved and she left an unmistakable mark in the lives of many people. Although her time with her family was very short and her promise was never fully realized, the joy and excitement that Skylar brought to her family will last for a lifetime.
Shelbi and Blaine wish to extend their thanks to the staff and nurses at Mercy Hospitalís 6th floor labor and delivery unit. They would also like to thank their parents and grandparents, especially Jack and Shirley Querry for their love and support during this difficult time.
Skylar was preceded in death by her great grandparents: Larry Wallace, Betty Seward, Richard Mills, and Dixie Mills and great uncle, Kevin Mills. She is survived by her parents: Blaine Duncan and Shelbi Carpenter. Grandparents: Wayne and Rhonda Duncan, Connie Taylor, Christi and Kelly Mills, and William Carpenter. Great grandparents: Jack and Shirley Querry, Wanda Wallace, and Mary and Phillip Duncan. Aunts Kaylyn Duncan and Lyndsi Carpenter and uncle Donavin Mills.
The family requests that donations be made in Skylarís memory to the Mercy Hospital P.R.I.D.E. Program (Parents responding to infant death experience), as they were blessed by the kindness and compassion of the P.R.I.D.E. volunteers and the services they offered.
Condolences may be sent to the family via an online guestbook at www.perrycares.com
|Tonkawa IOOF Cemetery Page| |Kay County Cemetery Page| |Home|

This page was updated: Tuesday, 06-Jan-2015 09:59:53 CST
This site may be freely linked, but not duplicated in any way without consent.
All rights reserved! Commercial use of material within this site is prohibited!
© 2000-2020 Oklahoma Cemeteries

The information on this site is provided free for the purpose of researching your genealogy. This material may be freely used by non-commercial entities, for your own research, as long as this message remains on all copied material. The information contained in this site may not be copied to any other site without written "snail-mail" permission. If you wish to have a copy of a donor's material, you must have their permission. All information found on these pages is under copyright of Oklahoma Cemeteries. This is to protect any and all information donated. The original submitter or source of the information will retain their copyright. Unless otherwise stated, any donated material is given to Oklahoma Cemeteries to make it available online. This material will always be available at no cost, it will always remain free to the researcher.