Oklahoma Cemeteries Website
Click here to break out of frames
This information is available for free. If you paid money for a
subscription to get to this site, demand a refund.
---
Harper County Obituaries

Wanda Fern Wilson
23 Oct 1922 - 23 May 2015
© BILLINGS FUNERAL HOME
WOODWARD, WOODWARD CO, OK
(permission granted)
Submitted by: Ann Weber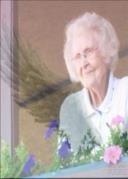 Funeral: 1:00 PM Wednesday, May 27th, 2015
Billings Funeral Home Chapel
Interment: Wednesday, May 27th, 2015
Laverne Cemetery
Wanda Firth Wilson is now in the company of angels in Heaven. She went peacefully on Saturday, May 23, 2015, surrounded by the love of her family. Funeral services will be held at 1:00 p.m. Wednesday, May 27, 2015 in the Billings Funeral Home Chapel with the Reverend Wesley Peterman officiating. Burial will follow in the Laverne Memorial Cemetery.
Preceding her in death is her husband of sixty-three years, Dick, a grandson, Ronnie Wilson, two sisters, Lilly Firth Ward and Jennie Firth Nelson, and one brother, Bill Firth.
Survivors are her children, Richard Wilson and wife, Jeanne, Cecil Wilson, Randy Wilson, Kandy Fanatia, Danny Wilson, Paula Wilson and one sister-in-law, Kay Firth. Surviving grandchildren are Rob Wilson, Rick Wilson, Chris Wilson, Heather Wilson, Jeff Wilson, Kathy Madron, Kenny Fanatia, Shelley Meadows, AJ Wilson, Peyton Wilson, Drew Haines, Chelsea Schugart, Lance Schugart, and Logan Schugart.
Others who will remember with pleasure her warm smile and her cheerful laugh, are Kathy Brown and Cindy Mims and E.J. Phillips, a niece who has been dear to her. Wanda Fern Firth Wilson was born October 23, 1922 in Beaver County, Oklahoma. The daughter of Rosa Neihart Firth and Gordon Firth, she grew up on a farm near Slapout, Oklahoma. Wanda married Paul Leroy (Dick) Wilson October 11, 1940 at Fort Supply, Oklahoma. Laverne, Oklahoma was the first place of residence for the newly married Wilson's. Wanda will be remembered as a young at heart, loving mother and grandmother. She was Mom not only to her own children but also to nieces, nephews, other relatives and numerous friends. She loved and supported fiercely her six children, fifteen grand's and twenty-six great-grands. When they came to her for advice and suggestions, which they often did, she always encouraged them to pursue their own passions.
Wanda's enjoyment in life was cooking for her family and for others. Her kitchen contained packed freezers and a pantry full of food, always ready to set a generous meal on the table regardless of how many unexpected visitors she welcomed into her kitchen.
Wanda was never more comfortable in her kitchen than summertime. For summertime brought children, grandchildren, family, and friends. For children and adults alike Wanda's summertime kitchen came alive. Wanda seemed destined to serve at least one delicious treat to everyone. Wanda's family could not have been more different at times, but her summertime kitchen instilled a unifying love in everyone who witnessed it.
Wanda loved to read, to write in her journal, and to work word puzzles. Her bedroom was a little girl's dream. Living near Fort Supply Lake as she did, watching the wild life, the deer and the wild turkeys from her window while having her morning coffee was a special, peaceful pleasure for Wanda. Wanda was always cleaning; the comment once made was that she would take her cleaning rag with her to Heaven. Her co-workers teased her about "diving" into her work when once she stepped backward and fell into the swimming pool of the Holiday Inn where she helped with cleaning the rooms.
Wanda worked at Rose Memorial in Denver, Colorado as an OBGYN nurse for nine years. When Dick's work brought him to Liberal, Kansas, she went to work at the Seward County Community College where she became famous for her "Wanda Burgers." So named by the students who said they were the best they had ever tasted because Wanda made them special. Memorial contributions may be made to the Faith United Methodist Church with the funeral home accepting the contributions on behalf of the family.
|Laverne Cemetery| |Harper County Cemeteries| |Home|
---
This page was updated: Saturday, 10-Oct-2015 07:38:58 CDT
This site may be freely linked, but not duplicated in any way without consent.
All rights reserved! Commercial use of material within this site is prohibited!
© 2000-2018 Oklahoma Cemeteries

The information on this site is provided free for the purpose of researching your genealogy. This material may be freely used by non-commercial entities, for your own research, as long as this message remains on all copied material. The information contained in this site may not be copied to any other site without written "snail-mail" permission. If you wish to have a copy of a donor's material, you must have their permission. All information found on these pages is under copyright of Oklahoma Cemeteries. This is to protect any and all information donated. The original submitter or source of the information will retain their copyright. Unless otherwise stated, any donated material is given to Oklahoma Cemeteries to make it available online. This material will always be available at no cost, it will always remain free to the researcher.