-1
Oklahoma Cemeteries Website
Click here to break out of frames
This information is available for free. If you paid money for a
subscription to get to this site, demand a refund.
---
Harper County Obituary
Laverne Memorial Cemetery
Brenda Kay Brinson Miller
9 Jul 1962 - 9 Jun 2014
© Unknown
Date unknown

Submitted by: Jo Aguirre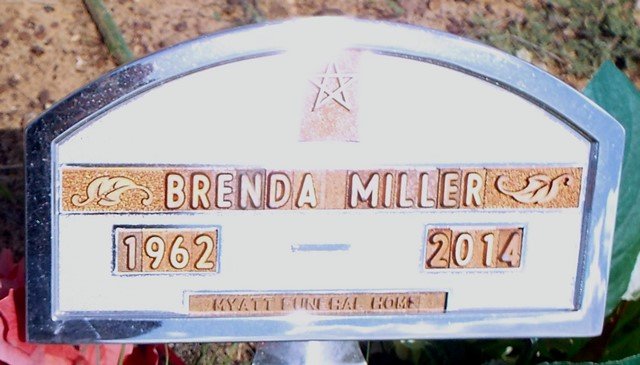 Services for Brenda Kay Miller were held on Thursday, June 12, 2014 at 2:00 PM at the Myatt-Laverne Funeral Chapel in Laverne, OK. Burial followed in the Laverne Cemetery.
Brenda Kay Brinson was born in Laverne, Oklahoma on July 9, 1962 to Dwain Jay and Karen (Easterday) Brinson and passed away on June 9, 2014 at the age of 51. She grew up in Laverne and graduated high school there.
After graduation, she had various jobs including waiting tables, working for Wal-Mart and the Dollar Store besides taking care of her home and family.
Brenda loved to fish and enjoyed going to the casinos. Her greatest joy was found in her kids and grandkids.
Brenda attended the Baptist Church in Wichita.
Survivors include her mother, Karen (Bob) Klein of Hanston, KS; her children, Zach (Ashley) Shearmire of Fargo, OK, Paige Shearmire of Wichita, KS and Seth Smith of Wichita, KS; her grandchildren, Anna, Kaytlyn, Landon, Aubrey, Camron and Caden; brothers, Cliff Brinson of Laverne, OK, Jonathan Brinson of Lake Charles, LA and Mark Brinson of Jasper, GA; sister, Mary Jane Pope of Laverne, OK; Mark Smith; and special friend Fred Caruthers; nieces, nephews and many friends.
She was preceded in death by her maternal and paternal grandparents and her father.
|Laverne Memorial Cemetery| |Harper County Cemeteries| |Home|
---
This page was updated: Wednesday, 02-Nov-2016 18:29:01 CDT
This site may be freely linked, but not duplicated in any way without consent.
All rights reserved! Commercial use of material within this site is prohibited!
© 2000-2018 Oklahoma Cemeteries

The information on this site is provided free for the purpose of researching your genealogy. This material may be freely used by non-commercial entities, for your own research, as long as this message remains on all copied material. The information contained in this site may not be copied to any other site without written "snail-mail" permission. If you wish to have a copy of a donor's material, you must have their permission. All information found on these pages is under copyright of Oklahoma Cemeteries. This is to protect any and all information donated. The original submitter or source of the information will retain their copyright. Unless otherwise stated, any donated material is given to Oklahoma Cemeteries to make it available online. This material will always be available at no cost, it will always remain free to the researcher.