Oklahoma Cemeteries Website
Click here to break out of frames
This information is available for free. If you paid money for a
subscription to get to this site, demand a refund.
---
Harper County Obituaries

GLORIA HEDGES
3 May 1928 - 9 Mar 2011
© Woodward News
March 11, 2011
Reprinted with permission
Submitted by: Ann Weber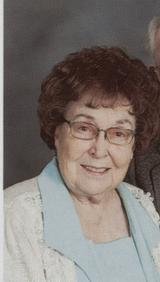 Woodward, Okla. - Gloria Hedges, 82 year old Woodward resident, died Wednesday, March 9, 2011 in Edmond, Oklahoma. Funeral services will be held at 11:00 a.m. Monday, March 14, 2011 at the United Methodist Church in Laverne. Interment will be held at the Laverne Memorial Cemetery. The family will receive friends at the Billings Funeral Home in Woodward, on Sunday, March 13, 2011 from 4:00 p.m. to 6:00 p.m. Arrangements are under the direction of the Billings Funeral Home, Woodward.
Gloria Gale (Dungan) Hedges was born on May 3, 1928 on the family farm northeast of Laverne, Oklahoma to Veldon "Drake" and Irene (Cummins) Dungan. Gloria was reared on the family farm and attended Rosston High School. After her high school graduation, she attended Northwestern State College in Alva and graduated from there with her Bachelor of Science in Library Science. Gloria was united in marriage to Harold Hedges on November 10, 1946 at the First United Methodist Church of Rosston. They made their first home in Woodward and lived there from 1946 until 1955 when they moved back to Laverne. The family lived in Laverne until moving to Woodward in 1984.
Gloria was the High School Librarian in Laverne from 1970 until her retirement in 1984. She loved playing Bridge and played in many Bridge tournaments throughout Oklahoma and Kansas while earning the level of "Life Master". She enjoyed entertaining in her home and being with her grandchildren, whom she loved dearly.
She was a member of the First United Methodist Church's in Laverne and Woodward. Gloria was also a member of the PEO International Women's Organization, which provides educational opportunities for female students and the Order of the Eastern Star in Laverne and Woodward. Gloria and her husband Harold traveled extensively including a trip to China. They enjoyed their vacation home in Red River, New Mexico and entertained family and several friends there throughout the years.
She is survived by her beloved husband Harold Hedges of Edmond; one daughter, Diana Lee and husband Marshall of Edmond; two sons, Steve Hedges and wife Jan of Tyler, Texas, and Bob Hedges and wife Marian of Burden, Kansas; seven grandchildren, Lezley Lynch and husband Steve, Steven Scoufos, Tyson Hedges, Bryan Hedges and wife Maggie, Macey Panach and husband Matt, Drew Hedges and Katie Hedges; six great-grandchildren; other relatives and many friends. She was preceded in death by her parents.
Memorial contributions may be made to the Oklahoma Medical Research Foundation, Alzheimer's research with the funeral home accepting the contributions. Remembrances may be shared online at www.billingsfuneralhomewoodward.com
|Laverne Cemetery| |Harper County Cemeteries| |Home|
---
This page was updated: Wednesday, 21-Oct-2015 14:03:59 CDT
This site may be freely linked, but not duplicated in any way without consent.
All rights reserved! Commercial use of material within this site is prohibited!
© 2000-2018 Oklahoma Cemeteries

The information on this site is provided free for the purpose of researching your genealogy. This material may be freely used by non-commercial entities, for your own research, as long as this message remains on all copied material. The information contained in this site may not be copied to any other site without written "snail-mail" permission. If you wish to have a copy of a donor's material, you must have their permission. All information found on these pages is under copyright of Oklahoma Cemeteries. This is to protect any and all information donated. The original submitter or source of the information will retain their copyright. Unless otherwise stated, any donated material is given to Oklahoma Cemeteries to make it available online. This material will always be available at no cost, it will always remain free to the researcher.