-1
Oklahoma Cemeteries Website
Click here to break out of frames
This information is available for free. If you paid money for a
subscription to get to this site, demand a refund.
---
Harper County Obituary
Laverne Memorial Cemetery
ARIEL BOZARTH
3 May 1985 - 5 Feb 2011
© Woodward News
February 11, 2011
Reprinted with permission
Submitted by: Ann Weber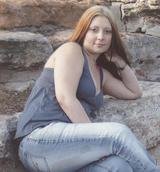 Ariel Lee Ann Bozarth was born on May 3, 1985 in Buffalo, Oklahoma to David and April Yvonne (Wiggins) Bozarth. She was raised in Woodward by her grandfather, Papa David Bozarth from the time she was three months of age. Ariel attended the Woodward schools. She worked in the construction business for Randy Pack.
Ariel was a member of the Church of Christ. She enjoyed fishing, camping, and hanging out with her friends and her Papa.
She is survived by her grandfather, David Bozarth of Woodward; her father, David Bozarth of Woodward; her mother April of Nebraska; her paternal great-grandmother, Eula Bozarth of Laverne; brothers, Donnie Firth and Ian Firth; her sister, Brandy Firth; numerous cousins, other relatives and many friends.
Remembrances may be shared online at www.billingsfuneralhomewoodward.com
|Laverne Memorial Cemetery| |Harper County Cemeteries| |Home|
---
This page was updated: Sunday, 30-Oct-2016 18:50:53 CDT
This site may be freely linked, but not duplicated in any way without consent.
All rights reserved! Commercial use of material within this site is prohibited!
© 2000-2018 Oklahoma Cemeteries

The information on this site is provided free for the purpose of researching your genealogy. This material may be freely used by non-commercial entities, for your own research, as long as this message remains on all copied material. The information contained in this site may not be copied to any other site without written "snail-mail" permission. If you wish to have a copy of a donor's material, you must have their permission. All information found on these pages is under copyright of Oklahoma Cemeteries. This is to protect any and all information donated. The original submitter or source of the information will retain their copyright. Unless otherwise stated, any donated material is given to Oklahoma Cemeteries to make it available online. This material will always be available at no cost, it will always remain free to the researcher.