Oklahoma Cemeteries Website
Click here to break out of frames
This information is available for free. If you paid money for a
subscription to get to this site, demand a refund.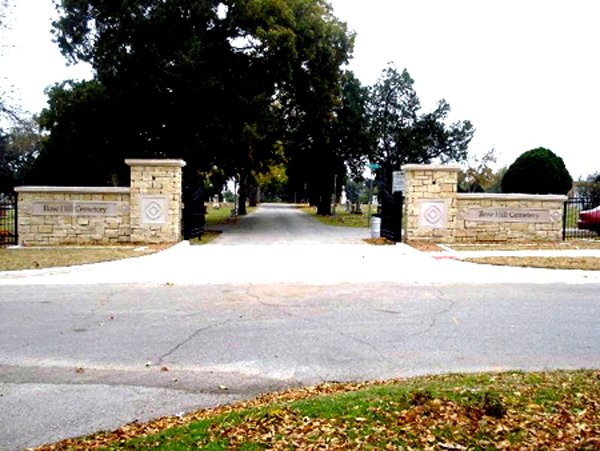 Rose Hill Cemetery ~ New Entrance

&copy Webb Rodgers

&copy Webb Rodgers

&copy Sandi Carter

Rose Hill Cemetery ~ Old Entrance

Rose Hill Cemetery
Chickasha, Grady County, Oklahoma
This cemetery site is dedicated to the memory of
Sharon Renee Chapman, 1956 - 2008, Chickasha
City Clerk. Sharon provided gravesite locations from
the Sexton's master list and became a good friend.
This cemetery was the I.O.O.F. Cemetery, AKA Chickasha or Grady County
Cemetery before the city of Chickasha obtained it. It is located at Grand Avenue
and 9th Street.



Largely submitted by: Tammy Sharp ~ Sandi Carter ~ Webb Rodgers ~ Mike Sykes



Much of the Rose Hill information, especially
burials not shown on the Sexton's master list, were provided
by Tammy Sharp who spent many hours in the summer of 2001,
compiling the information from each and every gravestone.
Thank you Tammy!
For Rose Hill Cemetery information please contact:
City of Chickasha. City Hall
117 N. Fourth Street
Chickasha, OK 73018
(405) 222-6015
Email: City Clerk
If you have family buried in this cemetery and would like to add
their names and information, please send an e-mail to Sandi Carter.



See Rose Hill photos photo





See Rose Hill Plat photo



See Aerial photo of Cemetery and Map

Submitted by: James Covington




Surnames beginning with:




|Grady County Cemetery Page| |Home|
---
[an error occurred while processing this directive]