Oklahoma Cemeteries Website
Click here to break out of frames
This information is available for free. If you paid money for a
subscription to get to this site, demand a refund.
---
William Henry MOEHLE
© Enid News and Eagle
Enid, Garfield Co., OK Thursday, March. 9, 2011


Submitted by: Lois Burdick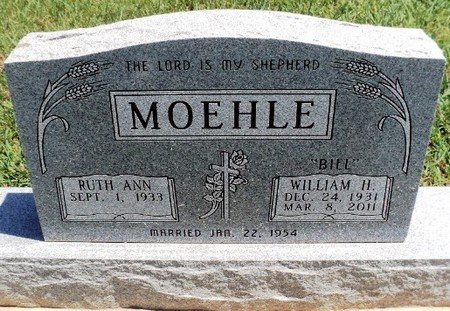 © Glenn
William H. MOEHLE
Trinity Lutheran Cemetery
Recent Deaths
Funeral service for William Henry "Bill" Moehle, 79, will be 2 p.m. Friday, March 11, 2011, at Trinity Lutheran Church. Rev. Gary Hendrickson will officiate. Burial will be in Trinity Lutheran Cemetery. Arrangements are under the direction of Ladusau-Evans Funeral Home.
Bill was born Dec. 24, 1931, in Enid, Okla., to Henry William and Kathryn Elizabeth Zwetzig Moehle and died at his home on Tuesday, March 8, 2011. He graduated from Carrier High School and attended two years of college in Alva, Okla., and Oklahoma A&M, where he played baseball.
He has been a farmer all his life. He married Ruth Ann Boese Jan. 22, 1954, in Enid, Okla. Bill was involved with various offices at church, Sunday school teacher, trustee and elder. He enjoyed raising sheep and was known all over the area for his championship sheep.
Survivors include his wife, Ruth of the home; son, Mark William Moehle and wife Brenda of Edmond, Okla.; two grandchildren, Joshua William Moehle, and Amy Elizabeth Moehle and fiancé Donald Caleb Messerly; brother, Richard Moehle and wife Mary Lou of Carrier; and sister, Barbara Marquardt and husband Vernon of Enid. Memorials may be made to OMRF, diabetes division or Trinity Lutheran Church.
|Trinity Lutheran Cemetery Page| |Garfield County Cemetery Page| |Home|
---
This page was updated: Tuesday, 05-Aug-2014 10:40:33 CDT
This site may be freely linked, but not duplicated in any way without consent.
All rights reserved! Commercial use of material within this site is prohibited!
© 2000-2019 Oklahoma Cemeteries

The information on this site is provided free for the purpose of researching your genealogy. This material may be freely used by non-commercial entities, for your own research, as long as this message remains on all copied material. The information contained in this site may not be copied to any other site without written "snail-mail" permission. If you wish to have a copy of a donor's material, you must have their permission. All information found on these pages is under copyright of Oklahoma Cemeteries. This is to protect any and all information donated. The original submitter or source of the information will retain their copyright. Unless otherwise stated, any donated material is given to Oklahoma Cemeteries to make it available online. This material will always be available at no cost, it will always remain free to the researcher.