Oklahoma Cemeteries Website
Click here to break out of frames
This information is available for free. If you paid money for a
subscription to get to this site, demand a refund.
---
Florence Rosella FRECH
© Enid News and Eagle
Enid, Garfield Co., OK November 22, 2010


Submitted by: Lois Burdick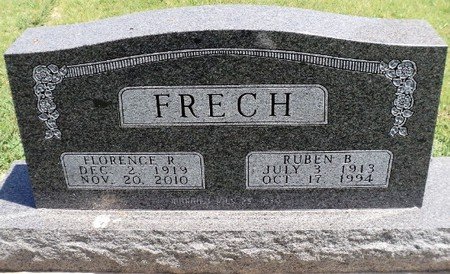 © Glenn
Florence R. and Ruben B. FRECH
Trinity Lutheran Cemetery
Florence Rosella Frech
— Florence Rosella Frech, 90, passed away Saturday, Nov. 20, 2010, at Shawnee Care Center. She was born Dec. 2, 1919, Southeast of Carrier to Elmer and Louise Luckert Brainard.
She graduated from Carrier High School. Florence married Ruben Frech July 23, 1939, at Trinity Lutheran Church near Carrier. She lived in the Enid community all of her life. For many years she was manager of the school lunch program at Lambert and Cherokee Public Schools. She was a member of Trinity Lutheran Church. She was preceded in death by her husband, Ruben; three brothers, Lee Brainard, Calvin Brainard and Harold Brainard; and a sister, Evelyn Kellert.
Florence is survived by two sons, Gary and wife Judy of Corpus Christi, Texas, and Elmer and wife Debbie of Okemah, Okla.; a brother, Derald Brainard of Carrier; two grandsons, Benjamin and wife Rebecca Frech, Oklahoma City, and Ryan Frech, Mesa, Ariz.; two granddaughters, Stephanie and husband Clint Kornegay of Tulsa and Emily and husband Brent Giles of Oklahoma City; and nine great-grandchildren;
Funeral will be 2 p.m. Wednesday, Nov. 24, 2010, at Trinity Lutheran Church near Carrier with Pastor Gary Hendrickson officiating. Burial will be in Trinity Lutheran Cemetery under the direction of Ladusau-Evans Funeral Home.
Memorials may be made to Trinity Lutheran Church Cemetery Perpetual Care Fund with the funeral home serving as custodians of the fund.
|Trinity Lutheran Cemetery Page| |Garfield County Cemetery Page| |Home|
---
This page was updated: Tuesday, 05-Aug-2014 05:58:04 CDT
This site may be freely linked, but not duplicated in any way without consent.
All rights reserved! Commercial use of material within this site is prohibited!
© 2000-2019 Oklahoma Cemeteries

The information on this site is provided free for the purpose of researching your genealogy. This material may be freely used by non-commercial entities, for your own research, as long as this message remains on all copied material. The information contained in this site may not be copied to any other site without written "snail-mail" permission. If you wish to have a copy of a donor's material, you must have their permission. All information found on these pages is under copyright of Oklahoma Cemeteries. This is to protect any and all information donated. The original submitter or source of the information will retain their copyright. Unless otherwise stated, any donated material is given to Oklahoma Cemeteries to make it available online. This material will always be available at no cost, it will always remain free to the researcher.