Oklahoma Cemeteries Website
Click here to break out of frames
This information is available for free. If you paid money for a
subscription to get to this site, demand a refund.
---
Jeanette Faye BRAINARD
© Enid News and Eagle
Enid, Garfield Co., OK
08-01-2012

Submitted by: Jo Aguirre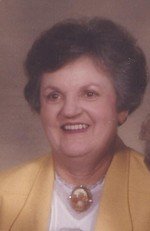 © Enid News and Eagle
She was born during the Dust Bowl and Depression on May 10, 1934, in Enid to Theodore Carl Rutz and Alma Johanna Benkendorf.
She was a lifelong member of the Lutheran Church Missouri Synod. As a child she was baptized at Trinity Lutheran Church, northwest of Enid, and confirmed at Zion Lutheran Church in Lahoma. She spent her adult life as a member of Trinity Lutheran Church, where on June 26, 1955, she married Derald Dean Brainard, whom she had known since childhood. Their 56-year marriage was blessed with two children, Brenda Lou and Brad Lee. She attended school at Turkey Creek School, west of Imo, and graduated from Drummond High School, where she lettered in basketball and received the first award for drama ever given at Drummond High School.
She was a devoted mother and farm wife. She worked on the family's diversified dairy and small grains farm by milking cows, driving equipment, delivering meals to the fields, and running to town for parts. She also worked at Central National Bank in Enid and served as the executive secretary of the Oklahoma Wheat Growers Association. She was a longtime member of her local home extension group and she was a respected authority on baking, sewing and canning. She judged numerous local, county and state fairs and competitions. She held numerous terms and positions as an active member of the Associated Milk Producers Inc., Woman's Auxiliary, and she was active in the Garfield County and State Farmers Union, where she served in various leadership roles.
In her later years, she brought history to life for thousands of fourth grade school children, where four days a week, she would step back in time, "reclaim" her maiden name and assume the dramatic role of "Miss Rutz," a 1910 schoolmarm teaching at the Turkey Creek one-room schoolhouse at the Cherokee Strip Regional Heritage Center in Enid. For 14 years, she taught visiting children their daily lessons of reading, writing and arithmetic using nib pens, chalk and slate tablets, just as it would have been taught in 1910. She took particular pride in the fact that she was teaching in the same one-room schoolhouse where she received her own third and fourth grade education. She enjoyed playing cards, entertaining, gardening, cooking and attending agricultural meetings. She was active in her church and several organizations, including Associated Aid for Lutherans and Thrivent Financial for Lutherans.
She was preceded in death by her parents; one sister, Bernita Blecka; and two brothers, Bill Rutz and Everett Rutz. She is survived by one sister, Bernice Pereboom of Enid; daughter, Brenda Dewald and husband Scott of Dover; son, Brad and wife Lisa of Enid; and seven grandchildren. A memorial service will take place at 10 a.m. Monday, Aug. 6, 2012, at Trinity Lutheran Church, west of Enid.
---
Derald Dean Brainard
© Enid News and Eagle
12-03-2011

Submitted by: Jo Aguirre
ENID — Derald Dean Brainard died Thursday, Dec. 1, 2011.

He was born Nov. 12, 1932, to Elmer Benjamin Brainard and Louise Luckert. He was baptized, confirmed, married and will be laid to rest at Trinity Lutheran Church in a private service.

He married Jeanette Faye Rutz June 26,1955.

He is survived by wife, Jeanette, of the home; daughter, Brenda Dewald and husband Scott; son, Brad and wife Lisa and seven grandchildren.

Memorials may be made to the Ongoing Ambassadors for Christ through Ladusau-Evans Funeral Home, Enid.

Condolences may be made at or sent to Laduau-Evans online or at ladusauevans@suddenlinkmail.com.



|Trinity Lutheran Cemetery Page| |Garfield County Cemetery Page| |Home|

---




This page was updated: Saturday, 16-Aug-2014 15:02:25 CDT
This site may be freely linked, but not duplicated in any way without consent.
All rights reserved! Commercial use of material within this site is prohibited!
© 2000-2019 Oklahoma Cemeteries

The information on this site is provided free for the purpose of researching your genealogy. This material may be freely used by non-commercial entities, for your own research, as long as this message remains on all copied material. The information contained in this site may not be copied to any other site without written "snail-mail" permission. If you wish to have a copy of a donor's material, you must have their permission. All information found on these pages is under copyright of Oklahoma Cemeteries. This is to protect any and all information donated. The original submitter or source of the information will retain their copyright. Unless otherwise stated, any donated material is given to Oklahoma Cemeteries to make it available online. This material will always be available at no cost, it will always remain free to the researcher.