Oklahoma Cemeteries Website
Click here to break out of frames
This information is available for free. If you paid money for a
subscription to get to this site, demand a refund.
---
Louie Lee Woolman Jr.

© Luginbuel Funeral Home
Tuesday, March 1, 2011
Submitted by: Annajo Cantrell Limore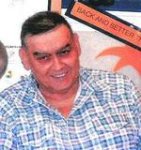 Louie Lee Woolman Jr., age 69 of Vinita, died Friday, February 25, 2011. Louie was born in Vinita on October 12, 1941, the son of Louie and Elvie (Glover) Woolman. On January 20, 1959 he was united in marriage to Twila Mefford and together they raised 5 children. Louie worked as a truck driver for many years. He also enjoyed fishing and woodworking.

Survivors include his wife Twila Woolman, sons: Dean Woolman, Cecil Woolman and wife Cheryl, and Charlie Woolman all of Vinita, daughters: Kathy Stanaker and husband Brady of Bartlesville, and Teresa Woolman of Bushyhead, 10 grandchildren, 18 great grandchildren, three sisters: Judy Wallace of Welch, Inez Wright of Ochelata, OK, and Barbara Cook of Vinita, as well as numerous nieces and nephews. He is preceded in death by his parents and sister Ina Lou Speck.

Graveside services will be 2:00 p.m., Tuesday, March 1, 2011 at the Pheasant Hill Cemetery. Services are under the direction of Luginbuel Funeral Home. Online condolences may be made at honoringmemories.com.
| Pheasant Hill Cem Page| |Craig County Cemetery Page| |Home|
---
This page was updated: Saturday, 06-Jun-2015 22:12:40 CDT
This site may be freely linked, but not duplicated in any way without consent.
All rights reserved! Commercial use of material within this site is prohibited!
© 2000-2018 Oklahoma Cemeteries

The information on this site is provided free for the purpose of researching your genealogy. This material may be freely used by non-commercial entities, for your own research, as long as this message remains on all copied material. The information contained in this site may not be copied to any other site without written "snail-mail" permission. If you wish to have a copy of a donor's material, you must have their permission. All information found on these pages is under copyright of Oklahoma Cemeteries. This is to protect any and all information donated. The original submitter or source of the information will retain their copyright. Unless otherwise stated, any donated material is given to Oklahoma Cemeteries to make it available online. This material will always be available at no cost, it will always remain free to the researcher.