Oklahoma Cemeteries Website
Click here to break out of frames
This information is available for free. If you paid money for a
subscription to get to this site, demand a refund.
---
Mildred Marie "Dutch" (Reutepohler) (LeFlore) Lashly
Jun 3, 1908 - Dec 9, 2011
Posted by Janet Laubhan Flickinger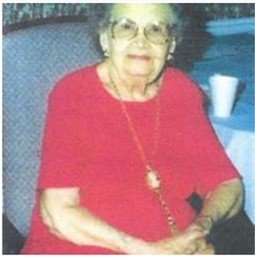 http://www.havenbrookfuneralhome.com/

Graveside services for Mrs. Mildred Marie "Dutch" LeFlore Lashly, 103, of Norman, will be held at 10:00 am Tuesday, December 13, 2011 at the I.O.O. F Cemetery in Norman with Pastor Fred Hambrick officiating.

Mildred was one of five daughters born near Norman to Sam and Sophia (Frick) Reutepohler on June 3, 1908. She passed away peacefully at her home at Cedar Creek in Norman on Friday, December 9, 2011.

Mildred attended Norman Schools, graduating from Norman High School in 1926. She was united in marriage to Mr. Henry Clay LeFlore welcoming a son, Sam LeFlore in 1945. Henry LeFlore passed away unexpectedly in February of 1955.

Later in 1966, Mildred married Floyd Lashly, Sr. and the two of them retired and moved to Lake Texoma where Mildred served Woodville Methodist Church playing the piano and organ.

In 1997, Mildred and Floyd returned to Norman to be close to her son and his family.

While a resident at Cedar Creek, Mildred enjoyed playing the piano for the residents, knitting baby caps and sweaters, reading, working puzzles and playing bingo.

In addition to her two husbands, Mildred was preceded in death by her parents and three sisters.

She is survived by her son, Sam LeFlore and his wife, Marilyn of Norman; one sister, Helen Ross of Wichita, Kansas; one grandson, Sam LeFlore, Jr., and his wife Paige of Cartersville, GA; one great grandson, Alex; a much loved friend, Nancy Burgess of Norman; and two step-sons, Floyd Lashly, Jr. and his wife, Carrie of South Dakota and Richard Lashly and his wife, Mary of Richardson, Texas.

Online condolences may be shared at www.havenbrookfuneralhome.com. Arrangements for Mildred and her family were placed in the care of the Vice Family at Havenbrook Funeral Home of Norman.


|Norman IOOF Cemetery |Cleveland County Cemeteries | |Home|


This page was updated: Friday, 25-Aug-2017 13:44:02 CDT
This site may be freely linked, but not duplicated in any way without consent.
All rights reserved! Commercial use of material within this site is prohibited!
© 2000-2019 Oklahoma Cemeteries

The information on this site is provided free for the purpose of researching your genealogy. This material may be freely used by non-commercial entities, for your own research, as long as this message remains on all copied material. The information contained in this site may not be copied to any other site without written "snail-mail" permission. If you wish to have a copy of a donor's material, you must have their permission. All information found on these pages is under copyright of Oklahoma Cemeteries. This is to protect any and all information donated. The original submitter or source of the information will retain their copyright. Unless otherwise stated, any donated material is given to Oklahoma Cemeteries to make it available online. This material will always be available at no cost, it will always remain free to the researcher.