Oklahoma Cemeteries Website
Click here to break out of frames
This information is available for free. If you paid money for a
subscription to get to this site, demand a refund.
---
Johnnie Lee Houck
May 16, 1929 - Jun 16, 2015
Posted by: Ann Weber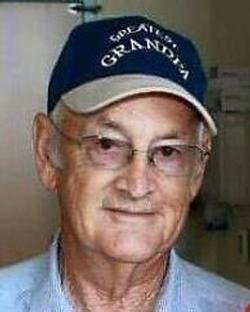 WILSON-LITTLE FUNERAL HOME
PURCELL-NEWCASTLE, MCCLAIN CO, OK
(permission granted)
Johnnie Lee Houck, age 76 of Noble, passed away Tuesday, June 16, 2015. Johnnie was born May 16, 1939 in Norman, the middle of 3 children born to Ernest Jason Houck and Lula Marie (Vaughn) Houck. He grew up in Norman and attended Norman Schools. Johnnie married the love of his life and his high school sweetheart, Carolyn Jane Smith on July 23, 1957 in Seminole, OK. They made their home in Norman for nine years, before settling in Noble in 1968. Together they raised 5 children, son, Keith and daughters, Vicki, Tracy, Lori and Joni. Johnnie worked as a truck driver a short time and later for Coca Cola. He then took a job with the University of Oklahoma as a carpenter. He retired after more than 29 years of dedicated service. Johnnie's real passion was carpentry and he spent most of his life working as a trim carpenter. He greatly enjoyed working with his hands. He loved spending time outdoors and especially in his garden. He liked to read a good Western novel and he never missed an opportunity to go fishing. Johnnie especially enjoyed being a Grandpa and he spent countless hours working with them and their projects. He was a wonderful husband and father, brother, uncle and true friend. He will be greatly missed!
He was preceded in death by: His parents, Ernest and Lula Houck and An infant sister.
Johnnie leaves behind: His wife, Carolyn Houck of the home; His son, Keith Smith and wife Kelly of Noble; Daughters, Vicki Kirby and husband Russell of Noble, Tracy Huxall and husband Johnny of Van Austyne, TX, Lori Runge and husband Tom of Noble and Joni Hensley of Noble; His brother, Don Houck of Norman; Sister, Dee Yates of Norman; 16 grandchildren, 17 great grandchildren, several nieces and nephews. A host of other family and friends and his very special companions, Bobby and Muddy.
Graveside Services are scheduled for 10:00 A.M. Monday, June 22, 2015, at the Blackburn Cemetery, east of Norman. Arrangements by Wilson-Little Funeral Home of Purcell.
|Blackburn Cemetery | |Cleveland County Cemeteries| |Home|
This page was updated: Monday, 10-Jul-2017 07:45:27 CDT
This site may be freely linked, but not duplicated in any way without consent.
All rights reserved! Commercial use of material within this site is prohibited!
© 2000-2020 Oklahoma Cemeteries

The information on this site is provided free for the purpose of researching your genealogy. This material may be freely used by non-commercial entities, for your own research, as long as this message remains on all copied material. The information contained in this site may not be copied to any other site without written "snail-mail" permission. If you wish to have a copy of a donor's material, you must have their permission. All information found on these pages is under copyright of Oklahoma Cemeteries. This is to protect any and all information donated. The original submitter or source of the information will retain their copyright. Unless otherwise stated, any donated material is given to Oklahoma Cemeteries to make it available online. This material will always be available at no cost, it will always remain free to the researcher.