Oklahoma Cemeteries Website
Click here to break out of frames
This information is available for free. If you paid money for a
subscription to get to this site, demand a refund.
---
Naomi Fay (Watkins) Barnard
Tombstone photo
Blackburn Cemetery
Norman, Cleveland County, OK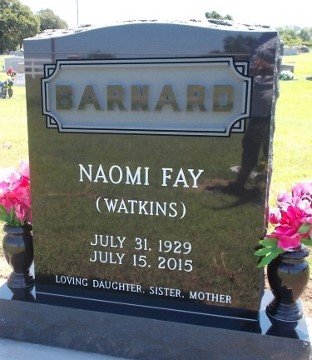 Photo © Audrey (McConnell) Calgeer
Obit posted by Janet Laubhan Flickinger
Jul 31, 1929 - Jul 15, 2015

http://www.havenbrookfuneralhome.com/
Naomi W. Barnard went home to be with her Lord on July 15, 2015.
She was born in Ashley County, Arkansas to Adlee Virginia and Marvin Lee Watkins. At the time of her death, she was living in Franklin, Oklahoma. Naomi died unexpectedly in the comfort of her home on her beloved computer where she spent hours of her time.
Naomi grew up in Arkansas and Louisiana with twelve siblings, all of which she adored. She did well in school and became an accomplished registered nurse. She was employed until retirement; first at Baptist Hospital and then Norman Regional Hospital.
Naomi was married to Charles W. Barnard. They had two children Danny Lee and Cynthia. Although Naomi and "Skip" were divorced, they remained close friends until his recent death.

Naomi is survived by her daughter Cynthia, grandsons Cole and Alexander, granddaughters, Jessica and Jillian, sisters Sybil Barnes and Dean Langley, and brothers Nick Doss and Lee Watkins.
She was preceded in death by her beloved son Danny, sister Martha Jean Kirkpatrick and numerous cherished relatives.

Naomi will be long remembered as a loving, compassionate, dedicated woman with a delightful sense of humor. She will be greatly missed by those who loved her.
Naomi had a lifetime love of photography, gardening, nursing, volunteering with the Red Cross, and being on her computer. She spent hours Skyping with family members and actively tweeting every day.

Visitation will be 8:00am-8:00pm Monday, July 20, 2015 at Havenbrook Funeral Home with the family receiving friends from 5-7pm.

Services to celebrate her life will be 10:00 am Tuesday, July 21, 2015 at Havenbrook Funeral Home Chapel. Interment will follow at Blackburn Cemetery in Norman, Oklahoma.
|Blackburn Cemetery | |Cleveland County Cemeteries| |Home|
This page was updated: Friday, 22-Jun-2018 14:38:08 CDT
This site may be freely linked, but not duplicated in any way without consent.
All rights reserved! Commercial use of material within this site is prohibited!
© 2000-2020 Oklahoma Cemeteries

The information on this site is provided free for the purpose of researching your genealogy. This material may be freely used by non-commercial entities, for your own research, as long as this message remains on all copied material. The information contained in this site may not be copied to any other site without written "snail-mail" permission. If you wish to have a copy of a donor's material, you must have their permission. All information found on these pages is under copyright of Oklahoma Cemeteries. This is to protect any and all information donated. The original submitter or source of the information will retain their copyright. Unless otherwise stated, any donated material is given to Oklahoma Cemeteries to make it available online. This material will always be available at no cost, it will always remain free to the researcher.