Oklahoma Cemeteries Website
Click here to break out of frames
This information is available for free. If you paid money for a
subscription to get to this site, demand a refund.
---
Alfalfa County, Oklahoma
Glennes W. Dague Couch
April 30, 1998
© Enid, OK. News
Submitted and © by Sylva Rhodes
Glennes W. Dague Couch
Helena, OK. -- The funeral for Glennes W. Dague Couch, 73, will be at 1:30 p.m. today at the Helena Christian Church with pastor Bill Coburn officiating. Burial will follow in the Good Hope Cemetery under the direction of Kenny Lanman Funeral Home.
She was born Dec. 25, 1924, in Helena, to Glenn E. and Esther Tuxhorn Dague and died Monday, April 27, 1998 at Integris Bass Baptist Health Center.
She graduated from Helena High School in 1942 and graduated from Enid Business College. She married Leland Couch on May 13, 1946 at Helena. She worked for George E. Failing Co., Dague Hardware and Implement Co., Hutson Implement, Hungerford-Sturgeon Implement and retired from Hungerford Oil and Gas.
She was a pianist and a member of the Helena Christian Church.
She is survived by two daughters, Beverly Couch of Oklahoma City, OK. and Pamela Hightower of Miami, OK.
She was preceded in death by her husband.
Memorials may be made to the Helena Christian Church through the funeral home.
---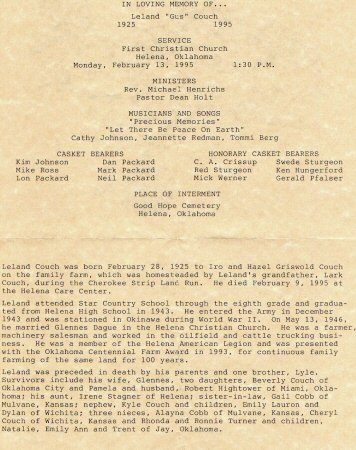 Submitted & © by Jeanne Crissup
---
Submitted and © by Sylva Rhodes
Submitted and © by Sylva Rhodes
Submitted and © by Sylva Rhodes
Glennes W. (Dague) & CPL Leland Joe "Gus" Couch
Good Hope Cemetery
C Surnames - Good Hope Cemetery
Alfalfa County
Home
---
This page was updated: Tuesday, 13-Aug-2013 18:54:41 CDT
This site may be freely linked, but not duplicated in any way without consent.
All rights reserved! Commercial use of material within this site is prohibited!
© 2000-2020 Oklahoma Cemeteries

The information on this site is provided free for the purpose of researching your genealogy. This material may be freely used by non-commercial entities, for your own research, as long as this message remains on all copied material. The information contained in this site may not be copied to any other site without written "snail-mail" permission. If you wish to have a copy of a donor's material, you must have their permission. All information found on these pages is under copyright of Oklahoma Cemeteries. This is to protect any and all information donated. The original submitter or source of the information will retain their copyright. Unless otherwise stated, any donated material is given to Oklahoma Cemeteries to make it available online. This material will always be available at no cost, it will always remain free to the researcher.