Oklahoma Cemeteries Website
Click here to break out of frames
This information is available for free. If you paid money for a
subscription to get to this site, demand a refund.
---
DONALD E. WOODS
Thursday, August 11, 2005
© Enid, OK. News (with picture)
Submitted by: Sylva Rhodes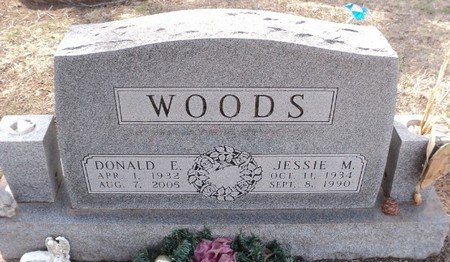 © Glenn
Donald E. and Jessie M. WOODS
Aline Star Cemetery
DONALD E. WOODS
Donald E. Woods, beloved husband, father, grandfather and friend, died August 7, 2005 at the age of 73 surrounded by those who loved him dearly. He was born April 1, 1932 to A. Jay and Millie (Barrows) Woods in Aline, OK.
Donald graduated from Aline High School and continued his education until his graduation in 1956 from the University of Oklahoma where his love of Sooner football began. He married Jessie Marie Elliott March 17, 1956 in Aline, OK. To this marriage were born five children, Ron, Marla, Paul, Cynthia and Lisa.
He is survived by two sons, Ron and wife Belinda and Paul and wife Cindy, all of Yukon, OK.; three daughters, Marla Fisher and husband Tom of Oklahoma City, OK., Cynthia Woods of Wichita Falls, TX., and Lisa Culliton and husband Edward of Overland Park, KS.; a brother Jay Woods and wife Dena of Arlington, TX.; a sister, Almeda Smith of Norman, OK.; thirteen grandchildren - Danny, Joshua, Justin, Erin, Kimberly, Tisha, Brooke, Jessica, Tyler, Brett, Cale, Christopher, and Beatrice; and three great-grandchildren - Blake, Joseph, and Daniel.
He was preceded in death by his wife of 34 years, Jessie; his mother, Millie; his father, A.J.; a brother Jimmy; and two sisters, Edith and Rose Mary.
Donald served 34 years as a civilian employee at Tinker Air Force Base, Midwest City, OK., where he gained much respect and many friends. His unforgettable smile, encompassing hugs and sense of humor made a multitude of fond memories for those who knew him. His love for his family and unending generosity will leave a large void in the lives of many. We will miss you Daddy !
The funeral service will be at 10 a.m., Friday, August 12, 2005 at the Aline United Methodist Church, Aline, OK. with burial in Aline Star Cemetery.
In lieu of flowers, the family suggests memorial donations in Donald's memory be made to the charity of your choice.
Bill Eisenhour Southeast Signature.
|W Surnames - Aline Star Cemetery Page|Aline Star Cemetery Page|Alfalfa County Page| |Home|
---
This page was updated: Saturday, 18-May-2013 13:59:23 CDT
This site may be freely linked, but not duplicated in any way without consent.
All rights reserved! Commercial use of material within this site is prohibited!
© 2000-2020 Oklahoma Cemeteries

The information on this site is provided free for the purpose of researching your genealogy. This material may be freely used by non-commercial entities, for your own research, as long as this message remains on all copied material. The information contained in this site may not be copied to any other site without written "snail-mail" permission. If you wish to have a copy of a donor's material, you must have their permission. All information found on these pages is under copyright of Oklahoma Cemeteries. This is to protect any and all information donated. The original submitter or source of the information will retain their copyright. Unless otherwise stated, any donated material is given to Oklahoma Cemeteries to make it available online. This material will always be available at no cost, it will always remain free to the researcher.