Oklahoma Cemeteries Website
Click here to break out of frames
This information is available for free. If you paid money for a
subscription to get to this site, demand a refund.
---
Westville Cemetery
Adair County, Oklahoma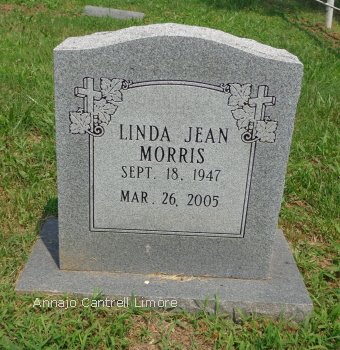 © Annajo Cantrell Limore
Linda Jean Morris
---
Linda Jean Morris

© Siloam Springs Hearld-Leader
March 30, 2005
Submitted by: Wanda Elliott
Linda Jean Morris, 57, died March 26, 2005 in Westville, Okla., after a long battle with cancer. Born Sept. 18, 1947 in Tahlequah, Okla., she was the daughter of Floyd Morris and Betty Cagle Morris.
She graduated from high school in 1965 and attended Northeastern State University, Southwestern Bible College and beauty college. She owned and operated a landscaping business, worked as an instructor at Northeastern Beauty Academy, Bill Willis Skill Center, Grandview School, and Westville Public Schools, and worked as a librarian at John Brown University in Siloam Springs, Ark. She volunteered in church and civic clubs. She attended First United Methodist Church of Westville.
She was preceded in death by one infant sister, Geneva Lee Morris. Survivors include two daughters, Dayla Martin and husband Ashley of Fayetteville, Ark., and Jatina Coburn and husband Chris of Beggs, Okla.; her parents, Floyd and Betty Morris of Westville; and five grandchildren.
Services will be held at 2 p.m. March 30 at First United Methodist Church in Westville with Pastors Joel Betow and Larry Kindle officiating. Burial will follow in Westville City Cemetery. Arrangements are under the direction of Hart Funeral Home.
---
|Adair County Cemetery Page| |Home|
This page was updated: Friday, 11-Oct-2019 08:59:01 CDT
This site may be freely linked, but not duplicated in any way without consent.
All rights reserved! Commercial use of material within this site is prohibited!
© 2000-2020 Oklahoma Cemeteries

The information on this site is provided free for the purpose of researching your genealogy. This material may be freely used by non-commercial entities, for your own research, as long as this message remains on all copied material. The information contained in this site may not be copied to any other site without written "snail-mail" permission. If you wish to have a copy of a donor's material, you must have their permission. All information found on these pages is under copyright of Oklahoma Cemeteries. This is to protect any and all information donated. The original submitter or source of the information will retain their copyright. Unless otherwise stated, any donated material is given to Oklahoma Cemeteries to make it available online. This material will always be available at no cost, it will always remain free to the researcher.