Oklahoma Cemeteries Website
Click here to break out of frames
This information is available for free. If you paid money for a
subscription to get to this site, demand a refund.
---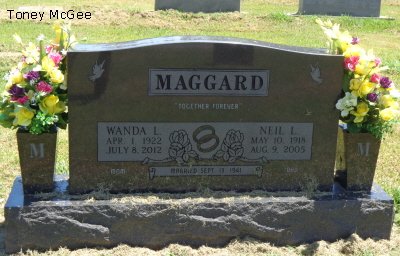 © Toney McGee
Wanda L. & Neil L. Maggard
---
Wanda Larue Maggard
Wanda Larue Maggard was born April 1, 1922 near Westville, OK, to Otto E. Wood and Bertha A. (Foreman) Wood. She departed this life on July 8, 2012 at Quail Ridge Living Center at West Siloam Springs, OK at the age of 90 years, 2 months and 8 days.
Wanda was born in the part of Hern school district, that is now called Jay-Bird Hollow. She lived there all her young life, except for a few months spent in California. Her dad moved the family to California in search of a better life, but it didnít happen. In 1936 she met the love of her life, Neil Maggard at a brush arbor meeting. After five years of dating, Neil and Wanda got married on September 13, 1941. They also went to California looking for work after they married. They got good jobs and were making good money, then Pearl Harbor was bombed. They got scared and came back to Jay-bird Hollow.
Wanda said she had a lot of memories of hard work and hard times. She and Neil worked hard and were saving. They found 90 acres that they could buy for 425 dollars, in the Chance community. They had 400 dollars and borrowed the 25 to buy the land. They picked blackberries and made 75 dollars and bought a little 2 room house and moved it to the 90 acres. This was their home for the remainder of their 63 years of marriage.
Their marriage was blessed with one daughter, who married Paul Vaughn and blessed them with 5 grandchildren.
Wanda was saved in 1956 at the Proctor Ford Free-Will Baptist Church located a few miles north of Chance community.
Wanda was a devoted wife and mother. She was a very good cook and always fixed three meals a day. She loved to sew and was a good seamstress. She could look at a picture of a dress and then make one just like it without a pattern. She taught herself to sew at the age of twelve year old on a used Treadle sewing machine that cost 2 dollars. She also loved to make a garden and was a very good gardener. Wanda was preceded in death by her parents, one brother, Chester Wood, and her beloved husband Neil of 63 years.
Her surviving family includes her daughter, Cammela and husband Paul. 5 Grandchildren: Randy and wife Ranae, Cody and wife Aimee of Westville, OK. Marty and wife Melanie of Jay, Florida, Olin and wife Donnetta of Athens AR, and Cammy and husband Chris of Siloam Springs AR. 8 Great-grand children: Paula and husband Brandon, Ashlyn, Ryan, Dakota, Cassie, Lindon Vaughn, Makayla and Camryn Whorton. And One Great-Great- Grand daughter, Brilee Bell. Also, 2 nieces, Betty Self and Linda Scott and one Nephew Wendell Wood. One Brother-in-law Kenneth Maggard and wife Margie, and one sister-in-law Lillian Wood.
Funeral Services at 10 am on Wednesday, July 11, 2012 at Faith Holiness Church, Westville with Olin Vaughn, Larry Kindle and Bill Wakley officiating. Interment followed at Westville City Cemetery.
---
|Adair County Cemetery Page| |Home|
This page was updated: Friday, 11-Oct-2019 08:58:51 CDT
This site may be freely linked, but not duplicated in any way without consent.
All rights reserved! Commercial use of material within this site is prohibited!
© 2000-2020 Oklahoma Cemeteries

The information on this site is provided free for the purpose of researching your genealogy. This material may be freely used by non-commercial entities, for your own research, as long as this message remains on all copied material. The information contained in this site may not be copied to any other site without written "snail-mail" permission. If you wish to have a copy of a donor's material, you must have their permission. All information found on these pages is under copyright of Oklahoma Cemeteries. This is to protect any and all information donated. The original submitter or source of the information will retain their copyright. Unless otherwise stated, any donated material is given to Oklahoma Cemeteries to make it available online. This material will always be available at no cost, it will always remain free to the researcher.