Oklahoma Cemeteries Website
Click here to break out of frames
This information is available for free. If you paid money for a
subscription to get to this site, demand a refund.
---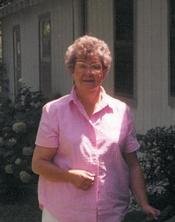 Pixie Ann Morton - Cain
Stilwell Cemetery
---
Pixie Ann Morton - Cain, daughter of Robert E. Lee Ketcher and Marvie (Brock) Ketcher, was born on June 9, 1934 in Stilwell, Oklahoma and departed this life to be with her Lord on Thursday, March 14, 2013 in Tulsa, Oklahoma at the age of 78 years, 9 months and 5 days.
Pixie was a lifelong resident of the Stilwell area. She was known and loved by many. Pixie worked as a Clerk for the A.S.C.S. and also graduated from N.S.U. with a B.S. in Elementary Education. She as blessed with a wonderful, loving and large family. Spending time with those she loved was a joy to her heart. Those who knew Pixie will remember and cherish her always.
Preceding her in death were her parents: Robert E. Lee & Marvie Ketcher, husband: Tommy Ray Morton in 1977, sister: Lennie Conley, brothers: Billy A. Ketcher, Dr. Austin Ketcher and an infant sister: Patsy Ketcher.
She is survived by her husband: Andrew Cain of the home in Rocky Mountain, children: Patricia Winkler and husband John, Radena Rutherford and husband Brad, Ronald Cain and wife Teresa, Janice Fletcher and husband Wendell of Stilwell, Lanny Cain and wife Youlanda of Bunch, David Cain and wife Tressia, Andrea Longshore and husband Ricky, of Stilwell, Stephanie Anderson and husband Jeff of Tulsa, 25 grandchildren, 13 great grandchildren, sister: Lee Gillum of Bixby, many other relatives and friends.
Funeral services were held at 2 pm on Monday, March 18, 2013 at Roberts/Reed-Culver Chapel with Rob Matlack, Mack Crittenden and Jeff Anderson officiating. Interment followed at Stilwell City Cemetery.
|Stilwell Cemetery| |Home|
---
This page was updated: Tuesday, 07-Apr-2020 12:49:57 CDT
This site may be freely linked, but not duplicated in any way without consent.
All rights reserved! Commercial use of material within this site is prohibited!
© 2000-2020 Oklahoma Cemeteries

The information on this site is provided free for the purpose of researching your genealogy. This material may be freely used by non-commercial entities, for your own research, as long as this message remains on all copied material. The information contained in this site may not be copied to any other site without written "snail-mail" permission. If you wish to have a copy of a donor's material, you must have their permission. All information found on these pages is under copyright of Oklahoma Cemeteries. This is to protect any and all information donated. The original submitter or source of the information will retain their copyright. Unless otherwise stated, any donated material is given to Oklahoma Cemeteries to make it available online. This material will always be available at no cost, it will always remain free to the researcher.