Oklahoma Cemeteries Website
Click here to break out of frames
This information is available for free. If you paid money for a
subscription to get to this site, demand a refund.
---
Saundra Jean (Johnson) & Charles Buddy "Bud" Miller
Cemetery Photo
Stilwell City Cemetery
Adair County, Oklahoma
Obit for Saundra
Sep 25, 1940 - Feb 10, 2020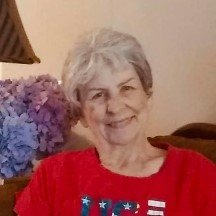 © R Burnett
©The Stilwell Democrat Journal
February 26, 2020
Submitted by Jan Grooms
Saundra Jean Johnson Miller died on February 10, 2020 in the Stilwell Memorial Hospital at the age of 79 from complications related to stage IV pancreatic cancer. She lived 78 years and 2 months healthy and cancer free and those are the years that define her and the ones we choose to remember.
Saundra was born tenth of ten children on September 25, 1940. Her father, Sam Richard Johnson was a World War I veteran and her mother, Gertrude Whitworth Johnson prepared breakfast and lunch at the one-room school house at Chalk Bluff. The school is long gone, and the location is a mystery.
Sometimes after a chemo run we would drive through the community but couldn't remember the exact location and couldn't find a place where someone would have to walk so far in deep snow for weeks uphill both ways just to get to school. When the long winters were finally over she liked to catch crawdads in the creek and ride the Ferris Wheel in the backyard built by her father. She was also spoiled by her six brothers who were returning home from World War II.
Saundra graduated the 8th grade in only six years and then her family moved to town where she attended Stilwell High School. She loved school. She was a cheerleader and a Poppy Queen and she made friendships that lasted her lifetime.
On May 22, 1959 she married Bud Miller from Rocky Mountain. In 1960 they had their first child Cassandra Lynn who she always called Sandy. Charla Jean was born in 1965. In 1966 they bought a house just south of town where she lived until her death. The youngest, Charles Darren, was born in 1969. Bud took up long haul trucking and she took a job at the newly opened Vo- Tech school. She loved her job and dedicated 25 years there until her retirement.
After their kids graduated from high school and they both retired from their jobs they could finally hit the road together in the Mercury. They enjoyed traveling together as long as Bud could keep his lead foot off the gas and Saundra wouldn't complain he drove like they were hauling frozen chickens.
She was an all-sports fanatic. When the OKC Thunder franchise started she was named captain of the first Stilwell Chapter Blue Alliance. Her enthusiasm for the team helped grow the fan base in the Stilwell area.
On Saturdays in the fall she watched OU football and win or lose she loved her Sooners. Her passion was unquestionable and she let it be known, whether on Facebook or in person, that orange was not part of her color wheel as she bled Crimson and Cream. Springtime brought major league baseball and it wasn't unusual for her to watch three or four games a day.
Preceding her in death are: her husband Bud, her parents: Sam and Gertrude, one sister Bettye Leatherwood, and all seven of her brothers; Sam Willard Johnson, Richard Johnson, Bill Johnson, Jack Johnson, Bob Johnson, Henry Johnson, and Johnnie Johnson.
Saundra is survived by one sister: Marilyn Hill of Stilwell; one sisterly niece: Mary Jo Green of Cookson, two daughters: Sandy Thomlinson of Stilwell and Charla Miller of Tahlequah; one son Darren Miller and wife Cyndi of Stilwell; nine grandchildren: Stephen McMurtrey and wife Mary of Sapulpa, Jaxon Thomlinson of Stilwell, Bryce Miller and wife Lindsey of Stilwell, Katelyn Miller of Tahlequah, Ty Miller of Stilwell, Kimber Miller of Stilwell; Tanner, Taylor, and Tucker Galyean of Stilwell, six great -grandchildren: Tyler, Ryan, and Kyle McMurtrey of Sapulpa, Mason O'Neal and Ryan Willis of Stilwell, and Hazyn Miller of Tahlequah.
|Stilwell City Cemetery | |Adair County Cemeteries| |Home|
---
This page was updated: Tuesday, 07-Apr-2020 12:49:55 CDT
This site may be freely linked, but not duplicated in any way without consent.
All rights reserved! Commercial use of material within this site is prohibited!
© 2000-2020 Oklahoma Cemeteries

The information on this site is provided free for the purpose of researching your genealogy. This material may be freely used by non-commercial entities, for your own research, as long as this message remains on all copied material. The information contained in this site may not be copied to any other site without written "snail-mail" permission. If you wish to have a copy of a donor's material, you must have their permission. All information found on these pages is under copyright of Oklahoma Cemeteries. This is to protect any and all information donated. The original submitter or source of the information will retain their copyright. Unless otherwise stated, any donated material is given to Oklahoma Cemeteries to make it available online. This material will always be available at no cost, it will always remain free to the researcher.