Oklahoma Cemeteries Website
Click here to break out of frames
This information is available for free. If you paid money for a
subscription to get to this site, demand a refund.
---
Cemetery Photo
Adair County, Oklahoma
Irvin Lee McCaleb & Jessie L. McCaleb
Stilwell City Cemetery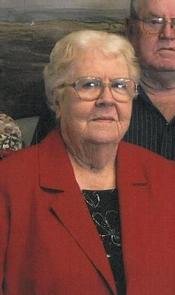 Jessie Lorene McCaleb
---
Jessie L. McCaleb, born to Roy & Edna (Morgan) McCollum at Vian, Oklahoma on January 8, 1923, passed from this life on Monday, September 2, 2013 at 09:43 pm in Westville, Oklahoma.
Jessie was raised at Stilwell, Oklahoma where she attended school and later attended beauty college.
She gave her heart to the Lord at an early age and was a member of Trinity Baptist Church of Vinita.
She was married to Irvin L. McCaleb on June 7, 1946 at Jay, Oklahoma.
They traveled a lot during their first years of marriage as Irvin was serving our country. Later they made their home in Vinita and Tulsa, OK.
She loved her family, friends and neighbors. She was very generous with her money, time and talents. Jessie loved crafts, sewing, reading and gardening.
Jessie was preceded in death by her husband: Irvin McCaleb, parents: Roy & Edna McCollum, brother: George McCollum, sisters: Violet Keen and Gertie McCollum, niece: Terri Baird Downey.
She leaves her sisters: Myrtle and Buck Dalton of Anderson, MO, Billye and Homer Scott of Stilwell, OK, brother: Jack McCollum and wife Martha of Westville, OK, 9 nieces and nephews, many friends and other relatives to mourn her passing.
Funeral services at 2 pm on Friday, September 6, 2013 at Roberts/Reed-Culver Chapel with Bro. Audie Vaughan officiating. Interment followed at Stilwell City Cemetery.
|Stilwell City Cemetery Page| |Adair County Cemetery Page| |Home|
---
This site may be freely linked, but not duplicated in any way without consent.
© July 2006 by Martha Real
The copyright (s) on this page must appear on all copied and/or printed material.
All rights reserved! Commercial use of material within this site is prohibited!