Oklahoma Cemeteries Website
Click here to break out of frames
This information is available for free. If you paid money for a
subscription to get to this site, demand a refund.
---
Andrew Parker Mattox, Sr
Feb 20, 1930 - Apr 29, 2018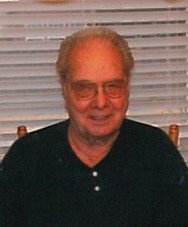 © R Burnett
©The Stilwell Democrat Journal
Wednesday, May 9, 2018
Submitted by Jan Grooms
Andrew Parker Mattox Sr., son of James Ray and Katherine (DeLozier) Mattox, was born on February 20, 1930 in Bunch, Oklahoma and departed this life on Sunday, April 29, 2018 at his home near Stilwell, Oklahoma at 88 years of age.
He worked hard and provided for his family. He was a plumber/electrician and a heat and air contractor. Andrew served his community for 10 years as a police officer and he also worked as an unarmed security guard for Tyson. When Andrew had any spare time, he enjoyed fishing, hunting, growing watermelons and gardening. He liked his casino times.
He was a member of Bunch Baptist Church. He attended as long as his health allowed. Andrew's favorite times were with his grandkids and great grandkids. He loved the holidays. Thanksgiving was his favorite.
He was preceded in death by his parents: James and Katherine Mattox, son: James Wayne Mattox, brothers: Arthur Mattox, Don Mattox, sisters: Virginia Brunson, Helen Rutherford and his granddaughter: Stephanie Greer.
Andrew is survived by a loving and devoted family that includes his wife: Maudie Mattox, of the home near Stilwell, children: Andrew Mattox Jr., also of the home, Paul Mattox and wife Kim of Dauphin, Ala., Pam Christie and husband Jerry of Keys, Sharon Adair and husband Mark of Tulsa, stepdaughter: Connie Asbill and husband Kyle of Stilwell, grandchildren: Trevor Mattox, Destiny Chuculate, Logan Mattox, Madison Mattox, Kim Drubek, Jason Christie, Jennifer Malone, Melissa Cummings, Maegan Adair, Justin Adair, 15 great-grandchildren, sister: Jan Shook of Kinta and many other relatives and friends.
Funeral services were held Wednesday, May 2, 2018 at Roberts/Reed- Culver Chapel, Stilwell, with Bro. Steve Mowery officiating.

Interment followed at Stilwell City Cemetery.
|Stilwell City Cemetery | |Adair County Cemeteries| |Home|
---
This page was updated: Monday, 25-Mar-2019 07:49:08 CDT
This site may be freely linked, but not duplicated in any way without consent.
All rights reserved! Commercial use of material within this site is prohibited!
© 2000-2020 Oklahoma Cemeteries

The information on this site is provided free for the purpose of researching your genealogy. This material may be freely used by non-commercial entities, for your own research, as long as this message remains on all copied material. The information contained in this site may not be copied to any other site without written "snail-mail" permission. If you wish to have a copy of a donor's material, you must have their permission. All information found on these pages is under copyright of Oklahoma Cemeteries. This is to protect any and all information donated. The original submitter or source of the information will retain their copyright. Unless otherwise stated, any donated material is given to Oklahoma Cemeteries to make it available online. This material will always be available at no cost, it will always remain free to the researcher.