Oklahoma Cemeteries Website
Click here to break out of frames
This information is available for free. If you paid money for a
subscription to get to this site, demand a refund.
---
Spade Mountain Cemetery
Adair County, Oklahoma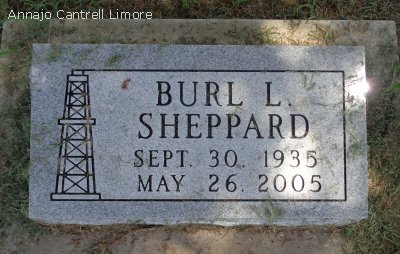 © Annajo Cantrell Limore
Burl L. Sheppard
---
Burl Leo Sheppard

© Stilwell (OK) Democrat Journal
June 1, 2005
Submitted by: Sharon Treib
Graveside services for Burl Leo Sheppard, age 69 of Yale, were held at 2:30 p.m. Saturday at the Spade Mountain Cemetery near Stilwell. Rev. Mike Clark will officiate.

Services have been entrusted to the Palmer and Marler Funeral Chapel in Yale.

Burl was born on September 30, 1935 in Stilwell, to H. D. and Minerva (Higgs) Sheppard. Burl was born and raised in Stilwell. He worked as a gauger in the oilfield all of his life. Burl enjoyed fishing and hunting. Burl lived in Ponca City from 1973 until 1995 when he moved to Yale. He attended the Church of God in Yale. Burl loved spending time with his kids and family. Burl passed away on Thursday, May 26, 2005 at the Yale Nursing Home.

Burl is survived by his son Burl Sheppard, Jr. and wife Mary of Ponca City, daughters Terri Jacobs of Elk City, Kansas, Sherry Alsip of Noel, Missouri and Lisa Sheppard of Yale, brother Carol Sheppard of Johnson City, Kansas, sister Elsie Fay Ryals of Welling, Oklahoma, nine grandchildren and nine great-grandchildren and a host of nieces and nephews, great-nieces and nephews.

He was preceded in death by his parents and several brothers and sisters.
---
|Adair County Cemetery Page| |Home|
This page was updated: Tuesday, 07-Apr-2020 12:32:37 CDT
This site may be freely linked, but not duplicated in any way without consent.
All rights reserved! Commercial use of material within this site is prohibited!
© 2000-2020 Oklahoma Cemeteries

The information on this site is provided free for the purpose of researching your genealogy. This material may be freely used by non-commercial entities, for your own research, as long as this message remains on all copied material. The information contained in this site may not be copied to any other site without written "snail-mail" permission. If you wish to have a copy of a donor's material, you must have their permission. All information found on these pages is under copyright of Oklahoma Cemeteries. This is to protect any and all information donated. The original submitter or source of the information will retain their copyright. Unless otherwise stated, any donated material is given to Oklahoma Cemeteries to make it available online. This material will always be available at no cost, it will always remain free to the researcher.