Oklahoma Cemeteries Website
Click here to break out of frames
This information is available for free. If you paid money for a
subscription to get to this site, demand a refund.
---
Salem Cemetery
Adair County, Oklahoma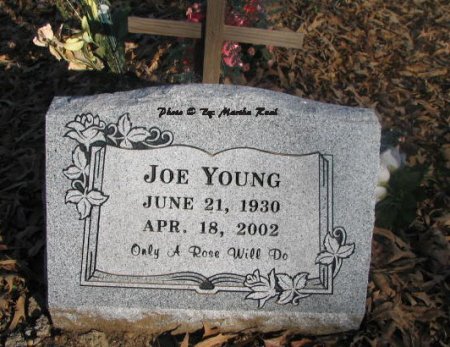 © Martha Real
Joe Young
---
Joe Young

© Stilwell (OK) Democrat Journal
April 2002
Submitted by: Martha Real
Funeral services for Joe Young were held at 10:00 a.m. Monday, April 22, 2002, in the Mulberry Tree Baptist Church with Bro. Gil Hooper and Bro. Willie Knight officiating. Interment followed at the Salem Cemetery under the direction of Hart Funeral Home of Stilwell.
Joe Young, son of William Young and Mary (Waters) Young, was born June 22, 1930 in Adair County, Oklahoma. He departed this life April 18, 2002 at his home near Stilwell at the age of 71 years, 9 months, and 26 days.
He was a Cherokee Health Representative and was of the Baptist faith. He served faithfully in the Mulberry Tree Baptist Church.
He was preceded in death by his parents, two brothers: an infant, and Tom Young, one son: Michael Wayne Young, four sisters: Cynthia Mary (Young) Jones, Viola (Young) Brown, Wilma Young, and Ruby Lee Young. Two grand-daughters, Natisha Deer-in-water and Tammy LaCrique.
Joe is survived by four sons: J. W. Young of Mulberry, Arkansas, Billy Joe Young I, and Billy Joe Young II, both of Stilwell, and David Ray Young of Watts, one brother, Robert Young and wife Coweta of Stilwell, four daughters, Sherry Adams and husband Bruce of Siloam Springs, Arkansas, Pam Diehl of Emporia, Kansas, Rosemary Palacios and Husband Antonio, and Margaret VanDyke and husband Steve all of Siloam Springs, Arkansas, two sisters: Margaret Louise Burnett of Stilwell, and Juanita Henson and husband Andy of Westville; many grandchildren and great-grandchildren and a host of friends and loved ones.
---
|Adair County Cemetery Page| |Home|
This page was updated: Wednesday, 07-Aug-2019 15:21:29 CDT
This site may be freely linked, but not duplicated in any way without consent.
All rights reserved! Commercial use of material within this site is prohibited!
© 2000-2020 Oklahoma Cemeteries

The information on this site is provided free for the purpose of researching your genealogy. This material may be freely used by non-commercial entities, for your own research, as long as this message remains on all copied material. The information contained in this site may not be copied to any other site without written "snail-mail" permission. If you wish to have a copy of a donor's material, you must have their permission. All information found on these pages is under copyright of Oklahoma Cemeteries. This is to protect any and all information donated. The original submitter or source of the information will retain their copyright. Unless otherwise stated, any donated material is given to Oklahoma Cemeteries to make it available online. This material will always be available at no cost, it will always remain free to the researcher.