Oklahoma Cemeteries Website
Click here to break out of frames
This information is available for free. If you paid money for a
subscription to get to this site, demand a refund.
---
Salem Cemetery
Adair County, Oklahoma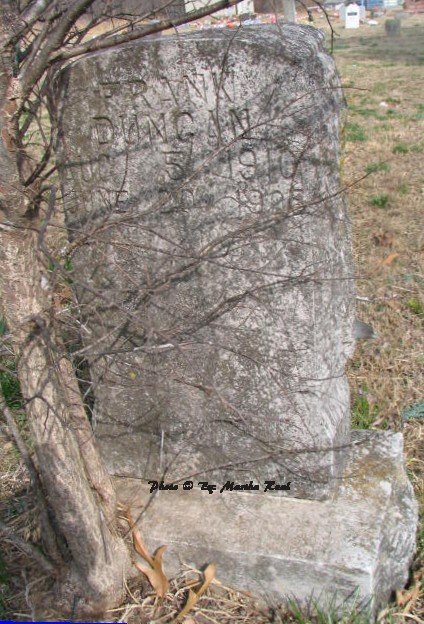 © Martha Real
Frank Duncan
---
Frank Duncan

© The Standard-Sentinel
June 25, 1925
Submitted by: Wanda Elliott
Frank, 14 year old son of Mr. and Mrs. John DUNCAN met with an accident near the gravel pit Saturday morning when the automobile he was driving overturned, pining him underneath it, which his death followed about midnight of the same day.
His father and two others who were occupants of the car suffered only slight injuries as a result of the tragic occurrence.
The remains of the DUNCAN boy were buried at Salem Sunday, the Rev. Leonard STEWART and Rev. Joe FEATHERS conducted services at the Salem church.
The DUNCAN family is well known here and the community deeply sympathizes with the bereaved relatives.
---
Card of Thanks - We wish to express our deep gratitude for the many kindnesses tendered the family since the tragic accident which resulted in Frank's untimely death.

(Signed) Mr. and Mrs. John DUNCAN, Lizzie DUNCAN, Fay Ola DUNCAN
---
|Adair County Cemetery Page| |Home|
This page was updated: Wednesday, 07-Aug-2019 15:17:27 CDT
This site may be freely linked, but not duplicated in any way without consent.
All rights reserved! Commercial use of material within this site is prohibited!
© 2000-2020 Oklahoma Cemeteries

The information on this site is provided free for the purpose of researching your genealogy. This material may be freely used by non-commercial entities, for your own research, as long as this message remains on all copied material. The information contained in this site may not be copied to any other site without written "snail-mail" permission. If you wish to have a copy of a donor's material, you must have their permission. All information found on these pages is under copyright of Oklahoma Cemeteries. This is to protect any and all information donated. The original submitter or source of the information will retain their copyright. Unless otherwise stated, any donated material is given to Oklahoma Cemeteries to make it available online. This material will always be available at no cost, it will always remain free to the researcher.