Oklahoma Cemeteries Website
Click here to break out of frames
This information is available for free. If you paid money for a
subscription to get to this site, demand a refund.
---
Catherine Sue "Cathy" (Chuculate) & Bryan J "Jake" Chanate
Tombstone photo
Reese Cemetery
Adair County, Oklahoma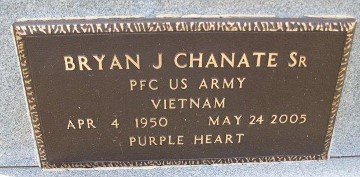 Photos © R Burnett
Thank You For Your Service!
Catherine Sue (Chuculate) Chanate
May 6, 1949 - December 23, 2005
Funeral services for Catherine Sue (Chuculate) Chanate, age 56 were held at 1:00 p.m. December 27, 2005 at Antioch Baptists Church in Peavine.
Interment followed at Reese Cemetery under the direction of Hart Funeral Home.
Catherine Sue Chanate was born to Felix and Pauline (Hummingbird) Chuculate on May 6, 1949, in Tahlequah and passed away from this life on December 23, 2005, in Tahlequah.
Catherine attended school in Stilwell. She attended college at both Bacone University and NSU and graduated with her bachelor's degree in Business education and a degree in geography. On September 1, 1969 she married the love of her life, Bryan "Jake" Chanate in Geary, OK. To this union three children were born.
Catherine was a devoted wife, mother and grandmother. When she wasn't keeping the home fires burning, she was an accomplished seamstress, and loved to crochet and quilt.
An avid reader she read her Bible faithfully. Anytime she spent with her husband, children and grandchildren was special to her. Her family was what mattered most to Cathy.
She was of the Baptist faith.
Catherine is preceded in death by her parents, and her husband, Bryan Jacob "Jake" Chanate in 2005; brothers Paul "Bud", Josh, Felix "Touchdown" Chuculate, and a sister Rosemary VanZandt.

Catherine is survived by her three loving children, Bryan J. Sonny and wife Kamichia Chanate of Park Hill, Deborah Chanate and Mary Chanate both of Tahlequah; two brothers, Larry Chuculate and Mitchell Chuculate both of Stilwell; two sisters, Iva Mae Unger of Stilwell and Francine Chuculate of Tahlequah; five grandchildren, Christopher Chanate, Robyn Chanate, Ahliyah Chanate, Phy-Shaun Chanate, Danielle Littlecreek all of Tahlequah; many nieces, nephews and cousins and a host of friends and loved ones.

|Reese Cemetery | |Adair County Cemeteries| |Home|
---
This page was updated: Saturday, 18-Apr-2020 14:28:07 CDT
This site may be freely linked, but not duplicated in any way without consent.
All rights reserved! Commercial use of material within this site is prohibited!
© 2000-2020 Oklahoma Cemeteries

The information on this site is provided free for the purpose of researching your genealogy. This material may be freely used by non-commercial entities, for your own research, as long as this message remains on all copied material. The information contained in this site may not be copied to any other site without written "snail-mail" permission. If you wish to have a copy of a donor's material, you must have their permission. All information found on these pages is under copyright of Oklahoma Cemeteries. This is to protect any and all information donated. The original submitter or source of the information will retain their copyright. Unless otherwise stated, any donated material is given to Oklahoma Cemeteries to make it available online. This material will always be available at no cost, it will always remain free to the researcher.