Oklahoma Cemeteries Website
Click here to break out of frames
This information is available for free. If you paid money for a
subscription to get to this site, demand a refund.
---
Lewis Flynn
Sep 24, 1940 - Aug 29, 2016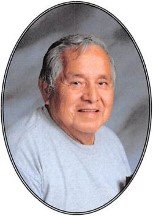 © R Burnett

©Roberts Reed Culver Funeral Home
Submitted by Jan Grooms

Lewis Flynn, son of Ned Jr. and Rosie (Blackbird) Flynn, was born September 24, 1940 in Stilwell, OK and departed this life on August 29, 2016 in Stilwell, OK at the age of 75 years, 11 months and 5 days.

He was a very loving husband, father and grandfather to his family. He loved fishing, yard sales, tinkering around and especially spending time with his family. He worked for many years but really enjoyed the last 13 years he spent at Peavine School. He was also a pastor at Beaver Baptist Church.

Lewis was preceded in death by his parents, his daughter; Angeline Flynn, son Bryan Lewis Flynn, his first wife; Rosie Marie (Fixin) Flynn, 2 sisters; Ruth Smith, Bessie Drywater and 1 brother; Felix Flynn.

He is survived by a very loving family that includes his wife; Barbara (Wolfe) Flynn of the home in Stilwell, OK, 1 son; Kevin Flynn of Tulsa, OK, grandchildren; Christopher Flynn of Cushing, OK, Kerri Ann Flynn and Michael Flynn both of Sapulpa, OK, great grandson; TayVeon Flynn also of Sapulpa, OK. Siblings; Nellie Flynn of Stilwell, OK, Luke Flynn of Okemah, OK, Perry Flynn of California, Mary Sanchez and husband Crispin, Ned Flynn all of Stilwell, OK, several nieces, nephews, other relatives and many friends also survive him.

Funeral services were held at 10:00 a.m. Friday, September 2, 2016 at Roberts/Reed-Culver Chapel, Stilwell, Oklahoma with Bro. Jimmy Muskrat officiating.

Interment followed at Mulberry Cemetery, Stilwell, Oklahoma



Mulberry Cemetery | |Adair County Cemeteries| |Home|

---
This page was updated: Sunday, 01-Sep-2019 12:23:48 CDT
This site may be freely linked, but not duplicated in any way without consent.
All rights reserved! Commercial use of material within this site is prohibited!
© 2000-2020 Oklahoma Cemeteries

The information on this site is provided free for the purpose of researching your genealogy. This material may be freely used by non-commercial entities, for your own research, as long as this message remains on all copied material. The information contained in this site may not be copied to any other site without written "snail-mail" permission. If you wish to have a copy of a donor's material, you must have their permission. All information found on these pages is under copyright of Oklahoma Cemeteries. This is to protect any and all information donated. The original submitter or source of the information will retain their copyright. Unless otherwise stated, any donated material is given to Oklahoma Cemeteries to make it available online. This material will always be available at no cost, it will always remain free to the researcher.