Oklahoma Cemeteries Website
Click here to break out of frames
This information is available for free. If you paid money for a
subscription to get to this site, demand a refund.
---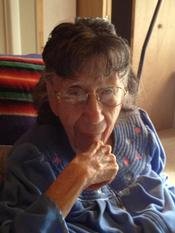 Katherine Madalene (Pebworth) Fourkiller
Fourkiller Cemetery
---
(November 29, 1914 - August 21, 2013)
Katherine Madalene (Pebworth) Fourkiller was the daughter of James Arthur Pebworth and Bertha Pauline McCurtain, both citizens of the Choctaw Nation. She was the oldest of three sisters; Geraldine Farra (Pebworth) Wyatt, and Francis Louise (Pebworth) Johnson. Katherine (known by her family as "Kitty"), and her sisters were granddaughters of Greenwood McCurtain and Kate "Kitty" Springs McCurtain and born in Kinta, Haskell County, Oklahoma. Green McCurtain was the Principal Chief of the Choctaw Nation from 1896-1900 and 1902-1910. Katherine passed from this life on August 21, 2013 at the age of 98 years, 8 months and 23 days at home with her granddaughter in Cookson.
Katherine received her Bachelor's of Science degree in Education from Southeastern State College (Durant, Oklahoma) in 1940. She soon moved to Adair County to live with her sister Louise, where she was an educator in several schools. Katherine met Thompson Fourkiller at a pie supper in Adair County. They were married and to this union was born their son Thomas Dale Fourkiller (also known as Tommy or "Tiny") was born on November 1, 1944. The young family moved frequently for work to places like Wichita, Chicago, and Kansas City, and later California where Katherine taught in elementary schools. They returned later to settle permanently back at the home place in Piney, Adair County.
Katherine was a devout Christian and enjoyed praying and reading her bible. Her relationship with God was very important in her life, and she was not hesitant to admonish all those around her to "reach the lost". Her dream and desire as a young person was to become a missionary overseas. Education was also very important to Katherine, and she was a consistent and strong voice encouraging her family to obtain higher education. She also enjoyed walking in the woods, gardening and fishing. Later in life, she and Thompson were regulars at the Senior Nutrition Center in Stilwell, until his death in 2001. She remained independent and lived in her home until her early 90s, where she was lovingly cared for by her son Thomas and his wife Rebecca, with other friends and relatives living nearby in the Piney community. At 92 years of age, she came to live with her granddaughter Melanie and was blessed to have the loving care of two very special people, Carylon Stricker of Gore, Oklahoma, and Ericka Carr of Peggs, Oklahoma.
Katherine is preceded in death by her parents, spouse Thompson, son Thomas Dale, and her sisters.
She is survived by grandchildren Melanie Fourkiller of Cookson, Oklahoma and Sean Fourkiller of Tahlequah, Oklahoma; nephew James R. "Bob" Mace of Henryetta, Oklahoma, and a host of friends and relatives.
The family of Katherine Fourkiller would like to acknowledge the Alzheimer's Association as a worthy establishment for donations as an option instead of flowers, food, or gifting.
Alzheimer's Association, www.alz.org, (800)272-3900.
Funeral services were held at 2 pm on Monday, August 26, 2013 at Roberts/Reed-Culver Chapel with Pastor Bart Skipper of Cookson Baptist Church officiating. Interment followed at Fourkiller Cemetery.
|Fourkiller Cemetery| |Home|
---
This page was updated: Sunday, 31-Mar-2019 14:13:21 CDT
This site may be freely linked, but not duplicated in any way without consent.
© 2012 by: Martha Real
The copyright (s) on this page must appear on all copied and/or printed material.
All rights reserved! Commercial use of material within this site is prohibited!