Oklahoma Cemeteries Website
Click here to break out of frames
This information is available for free. If you paid money for a
subscription to get to this site, demand a refund.
---
Cemetery Photo
Adair County, Oklahoma
Pauline V. & Wales P. Brown
Zion Cemetery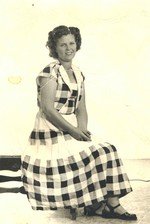 ---
Pauline Vivian Brown
(February 8, 1924 - March 6, 2010
Pauline Vivian (Ross) Brown was born February 8, 1924 in the Elm Grove community of Stilwell, Oklahoma. Her parents were John William Ross and Ella Jane Eaden Ross. Pauline departed this life on March 6, 2010 in Stilwell, Oklahoma at the age of 86.
Pauline was born and raised in the Stilwell community. In 1941, she married Wales Perry Brown and they started their life together. Pauline would say that they had eleven dollars and a trunk when they married and they were happy. In 1950, they moved to Satanta, Kansas with three small sons. She and Wales remained in Kansas, moving to several communities and adding a daughter and another son to their family, until 1979 when they returned to Oklahoma. During this time, Pauline worked as a nurse'€™s assistant in a nursing home as well as raising five children. Pauline loved to travel and visit family and friends. She loved her church and participating in activities at the senior center.
She was preceded in death by her parents: John and Ella Ross, husband: Wales Perry Brown, brother: Johnny Ross and sister: Juanita Ross Green.
She is survived by her children: Marvin Brown and wife Brenda of Bella Vista, AR, Raymond Brown and wife Lynette of Haysville, KS, Leroy Brown and wife Jackie of Valley Center, KS, Donna O'€™Reilly and husband Michael of Wichita, KS, Lonnie Brown and wife Arlene of Beaver, OK, brothers: Bill Ross of Tulsa, OK, Grover Ross of Tulsa, OK, sisters: Sally Pierce of Tacoma, WA, Ruby Roark of Animas, NM, Charlene Lindberg of Tacoma, WA, ten grandchildren, thirteen great grandchildren and numerous nieces, nephews and cousins.
Funeral services were held at 3:00 p.m. on Tuesday, March 9, 2010 at the Church of Christ, Stilwell, OK with Joe Smith officiating. Interment followed at Zion Cemetery under the direction of Roberts/Reed-Culver Funeral Home.
|Zion Cemetery Page| |Adair County Cemetery Page| |Home|
---
This page was updated: Wednesday, 20-Feb-2019 13:10:13 CST
This site may be freely linked, but not duplicated in any way without consent.
© 2006 - 2008 by Martha Real
The copyright (s) on this page must appear on all copied and/or printed material.
All rights reserved! Commercial use of material within this site is prohibited!