Oklahoma Cemeteries Website
Click here to break out of frames
This information is available for free. If you paid money for a
subscription to get to this site, demand a refund.
---
Zion Cemetery
Adair County, Oklahoma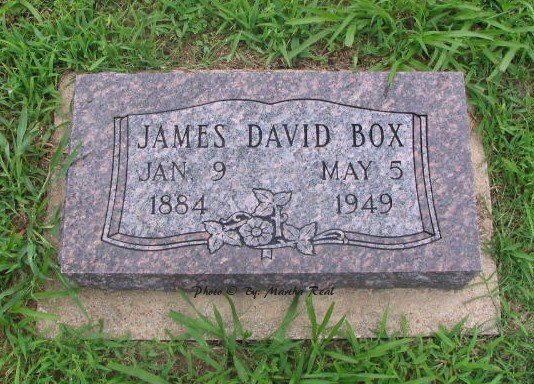 © Martha Real
James David Box
---
Jas. D. Box

© The Stilwell Democrat Journal
Thursday, May 12, 1949
Submitted by: Wanda Elliott
A paralytic stroke suffered the week before proved fatal to Pioneer Jas. D. BOX late Thursday in a Prairie Grove hospital.

Funeral services were held Sunday afternoon at 2 o'clock at the Roberts Chapel, with Rev. W.M. ISAACS, Baptist minister, officiating. Burial was in Zion Cemetery.

Born January 9, 1844 in Washington County, Ark., Mr. BOX was 65 years, three months and 26 days of age. He had lived in or near Stilwell for 35 years.

Surviving are his wife of the home, and nine daughters and one son. Three children preceded him in death.
---
|Adair County Cemetery Page| |Home|
This page was updated: Friday, 08-Jul-2016 15:50:52 CDT
This site may be freely linked, but not duplicated
in any way without consent.
© 2000-2016 for the Oklahoma Cemeteries Website
Tammie Chada, Founder
The copyright(s) on this page must appear on all copied and/or printed material.
All rights reserved! Commercial use of material within this site is prohibited!
GOD Bless America!