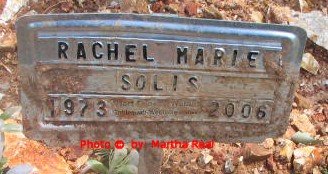 © Martha Real
Rachel Marie Solis
Clear Springs Cemetery
---
Rachel Marie Solis
April 24, 1973 - April 2, 2006
Rachel Marie Solis, the daughter of Jose Solis and Bonnie Starr, was born April 24, 1973 in Oakland, California, and departed this life on April 2, 2006 in Muskogee at the age of 32 years, 11 months and 7 days.
Rachel attended the Watts Baptist Church. She lived an active life and enjoyed music, dance and going out riding.
She was preceded in death by her grandparents, Andrew Starr, and Jose and Marie Solis, two cousins, Smokey Franco and Matthew Schultz, one niece, Rosalinda Manazares and three uncles, Johnny, Rudy and Larry Solis.
She leaves to mourn, her parents, Jose and Lynn Solis, of Hayward, CA and Bonnie Starr of Stilwell; one brother, Andrew Solis of Decatur, AR, one sister, Vanessa Solis of Vanita; grandmother, Mollie Starr of Stilwell; two nieces, Rosa Marie Manzares and Marlene Manzares, of Vinita; two nephew, Deonandre Solis and Louise Manzares, both of Vinita; three aunts, Betty Charter and husband Dennis of Stilwell, Nanetta Schultz and husband Charles of Stilwell, Jane Starr of Hayward, CA and numerous family and friends.
Graveside services will be held 2:00 p.m. Friday, April 7, 2006 at Clear Springs Cemetery under the direction of Hart Funeral Home.
|Clear SpringsCemetery Page| |Adair County Cemetery Page| |Home|
---
This page was updated: May 20, 2006
This site may be freely linked, but not duplicated in any way without consent.
© 2006 by Martha Real
The copyright (s) on this page must appear on all copied and/or printed material.
All rights reserved! Commercial use of material within this site is prohibited!