Oklahoma Cemeteries Website
Click here to break out of frames
This information is available for free. If you paid money for a
subscription to get to this site, demand a refund.
---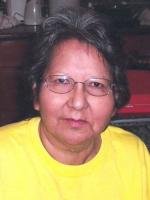 Janis Oleta Sawney
Chulio Cemetery
---
Janis Oleta Sawney
Memorial Card
August 2010
Submitted by: Martha Real
March 23, 1951 - August 2, 2010
Janis Oleta Sawney, daughter of John William and Sallie (Silk) Chulio, was born on March 23, 1951 in Muldrow, Oklahoma and passed from this life on Monday, August 2, 2010 in Ft. Smith, Arkansas at the age of 59 years, 4 months and 10 days.
Janis was a member of New Hope Missionary Baptist Church. She enjoyed singing gospel songs and attending church. Janis loved her family and the time she spent with them. She liked to garden, fish and work at arts & crafts. Janis was a very loving wife, mother and grandmother. All who knew Janis, loved her and will miss her deeply.
She was preceded in death by her parents: John and Sallie Chulio, brother: Oscar Chulio, 2 grandchildren: Ty and Brayden Black, stepfather: Dan Hummingbird.
Janis is survived by a devoted family that includes her husband: Jimmy Ray Sawney of the home in Muldrow, OK, children: Shelly Black and husband Preston of Stilwell, OK, Jimmy Lee Sawney and wife Renee of Muldrow, OK, Rebecca Chuculate of Tahlequah, OK, Dale Sisco and wife Tracy of Liberty, OK, 8 grandchildren: Sophie Black, Brent Sisco, Madison Tuck, Briana Sisco, Jurnee Sisco, Taylor Chuculate, Malinda Chuculate, Jalen Tidwell, several nieces, nephews, other relatives and many friends.
Funeral services were held at 2:00 p.m. on Wednesday, August 4, 2010 at Cherry Tree Baptist Church with Bro. Curtis Mitchell and Sheila Jones officiating. Interment followed at Chulio Cemetery under the direction of Roberts/Reed-Culver Funeral Home.
|Chulio Cemetery Page| |Adair County Cemetery Page| |Home|
---
This site may be freely linked, but not duplicated
in any way without consent.
Format © 2006 - 2010 by Martha Real
The copyright (s) on this page must appear on all
copied and/or printed material.
All rights reserved! Commercial use of material within this site is prohibited!