Oklahoma Cemeteries Website
Click here to break out of frames
This information is available for free. If you paid money for a
subscription to get to this site, demand a refund.
---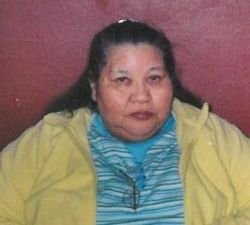 Linda Jan Daugherty
Chulio Cemetery
---
Linda Jan Daugherty, daughter of William and Maggie (Duck) Roastingear, was born on January 30, 1951 in Tahlequah, Oklahoma and passed from this life on Friday, May 9, 2014 in Chouteau, Oklahoma at the age of 63 years, 3 months and 9 days.
Linda was lovingly known as Margaret by her family and friends. She enjoyed fishing and hunting crawdads. Linda also enjoyed going to gospel singings when she was able.
She was preceded in death by her parents: William and Maggie Roastingear, stepchildren: Michael Wayne Shell, Norma Jean Shell, three half brothers: Harold Roastingear, Jack Roastingear and Ellis Charles, a half sister: Katie Worthly and grandson: Justin Kyle Clinton.
She is survived by a large and loving family that includes: Dora Mae Clinton of Muldrow, OK, son: Kyle Paul Taylor and wife Kim of Tennessee, stepdaughters: Vina Pritchett and husband Rufus of Stilwell, OK, Peggy Ross and husband James of Stilwell, Lucas Shell, Erma Shell, Dorthy Shell and companion Mark Bunch of Stilwell, Laura Rose of Rose, OK, step grandchildren whom she dearly loved: Stephanie Ross Sanders and husband Tommy, Jr., Sammy Pritchett, Rufus Pritchett, Jr., Kevin, Kyle and Morgan Pritchett, Jimmy Dale Ross, Kendra Grigsby.
Funeral services were held at 1 pm on Wednesday, May 21, 2014 at Cherry Tree Baptist Church, Stilwell, OK with Pastor Leo Duncan officiating. Interment followed at Chulio Cemetery under the direction of Roberts/Reed-Culver Funeral Home.
|Chulio Cemetery Page| |Adair County Cemetery Page| |Home|
---
This site may be freely linked, but not duplicated in any way without consent.
© 2012 by: Martha Real
The copyright (s) on this page must appear on all copied and/or printed material.
All rights reserved! Commercial use of material within this site is prohibited!