Oklahoma Cemeteries Website
Click here to break out of frames
This information is available for free. If you paid money for a
subscription to get to this site, demand a refund.
---
Cemetery Photo
Adair County, Oklahoma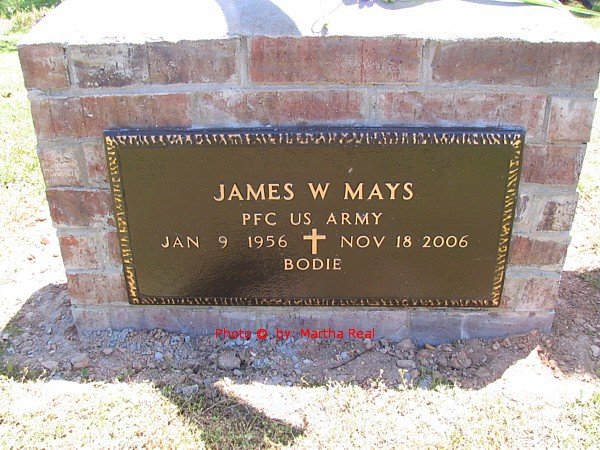 Submitted by: Martha Real
James Warren "Bodie" Mays
Bunch Cemetery
|Bunch Cemetery Page| |Adair County Cemetery Page| |Home|
---
James "Bodie" Mays
January 9, 1956 - November 18, 2006
James "Bodie" Mays son of Gillis and Emma (Asbill) Mays was born January 9, 1956 in Bunch, Oklahoma and departed this life to be with the Lord on November 18, 2006 at his home in Bunch at the age of 50 years, 10 months and 9 days.
He was preceded in death by his parents, Gil and Emma Mays, and his maternal and paternal grandparents.
He is survived by a very loving family that includes 3 daughters: Krystal Hahn and husband Jacob of Tulsa, OK., Amy Marie Mays of Hulbert, OK., Amanda Jo Mays of Gentry, AR., 1 son: James Martin Mays of Gentry, AR.
1 sister: Carol Drumm and husband Darrel of Bunch, OK., 2 nephews: Lee Drumm and wife Izabela of Springdale, UT., Jon Drumm and wife Melissa of Bunch, OK., 3 great nephews: Jon Michael Drumm, Robert Drumm, Colt Drumm all of Bunch, OK. Several cousins, other relatives and many friends also survive him.
Graveside services will be held Monday, November 22, 2006 in the Bunch Cemetery.
Interment will follow under the direction of Roberts/Reed-Culver Funeral Home.
Thank You For Your Service!
|Bunch Cemetery Page| |Adair County Cemetery Page| |Home|
---
This page was updated: Monday, 11-Mar-2019 15:03:47 CDT
This site may be freely linked, but not duplicated in any way without consent.
All rights reserved! Commercial use of material within this site is prohibited!
© 2000-2020 Oklahoma Cemeteries

The information on this site is provided free for the purpose of researching your genealogy. This material may be freely used by non-commercial entities, for your own research, as long as this message remains on all copied material. The information contained in this site may not be copied to any other site without written "snail-mail" permission. If you wish to have a copy of a donor's material, you must have their permission. All information found on these pages is under copyright of Oklahoma Cemeteries. This is to protect any and all information donated. The original submitter or source of the information will retain their copyright. Unless otherwise stated, any donated material is given to Oklahoma Cemeteries to make it available online. This material will always be available at no cost, it will always remain free to the researcher.