Oklahoma Cemeteries Website
Click here to break out of frames
This information is available for free. If you paid money for a
subscription to get to this site, demand a refund.
---
Cemetery Photo
Adair County, Oklahoma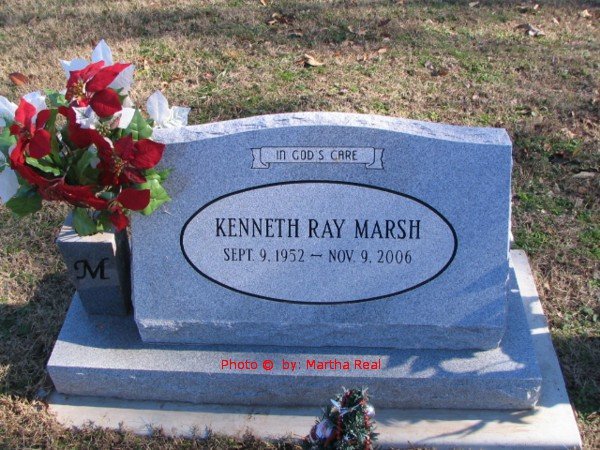 Photographed & Submitted by: Martha Real
Kenneth Ray Marsh
Bunch Cemetery
---
Kenneth Ray Marsh
September 9, 1952 - November 9, 2006
Kenneth Ray Marsh son of Billy Joe and Kathleen Janet (Maxwell) Marsh was born September 9, 1952 in Tulsa, Oklahoma and entered into eternal peace and rest on November 9, 2006 in Tulsa, Oklahoma at the age of 54 years and 1 month.
He was preceded in death by his father: Billy Joe Marsh.
He is survived by a loving family that includes his mother, Kathleen Marsh of Stilwell, OK., 2 sisters; Karen Rene Hooper and husband A.J. of Stilwell, OK., Wanda Jean Brown and husband Herbert of Tulsa, OK., 1 son: Jeremy Ray Marsh of Tulsa, OK., 1 daughter: Melissa Carlson and husband Dennis of Owasso, OK., 2 grandchildren, cousins, 1 uncle, nephews, other relatives and many friends also survive him.
Memorial services were held Tuesday, November 14, 2006 in the Bunch Cemetery with Bro. Jimmie Varnell officiating.
Interment followed under the direction of Roberts/Reed-Culver Funeral Home.
|Bunch Cemetery Page| |Adair County Cemetery Page| |Home|
---
This site may be freely linked, but not duplicated in any way without consent.
© 2006, 2007 & 2008 by Martha Real
The copyright (s) on this page must appear on all copied and/or printed material.
All rights reserved! Commercial use of material within this site is prohibited!