Oklahoma Cemeteries Website
Click here to break out of frames
This information is available for free. If you paid money for a
subscription to get to this site, demand a refund.
---
Cemetery Photo
Adair County, Oklahoma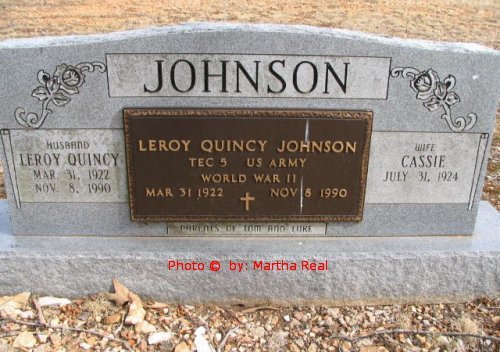 Submitted by: Martha Real
Thank You For Your Service!
Leroy Quincy & Cassie Juanita (Copeland) Johnson
Bunch Cemetery
---
Cassie Juanita Johnson
July 31, 1924-June 29, 2008
Cassie Juanita (Copeland) Johnson, the daughter of William I. "Ike" and Ida Mae (Foutch) Copeland, was born July 31, 1924 in Sallisaw, OK., and departed this life on June 29, 2008 in Muskogee, OK., at the age 83 years, 10 months, and 29 days.
She married Leroy Johnson in 1945 when he returned from the South Pacific Theater of World War II.
After residing in Northern California where they both worked in the Timber Industry, they returned to the Stilwell area. She became a homemaker and he was employed by the Ozarks Electric Coop until he retired.
After 45 years of marriage, he passed away in 1990. She was a loving and wonderful mother.
She was preceded in death by her parents, her loving husband Leroy Johnson and several siblings.
She is survived by a loving family that includes 2 sons; Tom Johnson of Muskogee, OK., and Luke Johnson of Coweta, OK., 1 brother; Ed Copeland of Bunch, OK., 2 sisters; Shine Cobb and Bertha Wiswell both of Claremore, OK., 2 grandsons; Brayden and Bo Phillips of Keys, OK. A host of nieces, nephews and many friends also survive her.
Graveside services were held Thursday, July 3, 2008 at 11:00 am in the Bunch Cemetery with Kevin Spurlock officiating.
Interment followed under the direction of Roberts/Reed-Culver Funeral Home.
|Bunch Cemetery Page| |Adair County Cemetery Page| |Home|
---
This page was updated: Monday, 11-Mar-2019 15:03:17 CDT
This site may be freely linked, but not duplicated in any way without consent.
All rights reserved! Commercial use of material within this site is prohibited!
© 2000-2020 Oklahoma Cemeteries

The information on this site is provided free for the purpose of researching your genealogy. This material may be freely used by non-commercial entities, for your own research, as long as this message remains on all copied material. The information contained in this site may not be copied to any other site without written "snail-mail" permission. If you wish to have a copy of a donor's material, you must have their permission. All information found on these pages is under copyright of Oklahoma Cemeteries. This is to protect any and all information donated. The original submitter or source of the information will retain their copyright. Unless otherwise stated, any donated material is given to Oklahoma Cemeteries to make it available online. This material will always be available at no cost, it will always remain free to the researcher.